Dropping to 0-3 at home and posting their lowest point total of the season resulted in a very frustrating afternoon for the Bears Sunday at Soldier Field.
"We make the same mistakes," receiver Brandon Marshall said after a 27-14 loss to the Dolphins. "Same mistakes. Same mistakes. We've got to protect the football. We've got to execute the game plan. We've got to adjust when things don't go as we saw on film.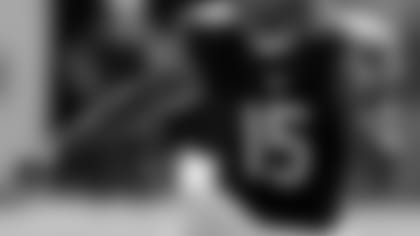 Brandon Marshall finished the game with six receptions and 48 yards against the Dolphins.
"We've got Alshon Jeffery, Martellus Bennett, Kyle Long … We've got a stud offensive line. We've got a great, great group of guys, and this is unacceptable. What did we put up, 14 points? That's unacceptable. That's unacceptable."
The Bears lost the turnover battle 3-0 Sunday and are now minus-seven in turnover ratio (eight giveaways and one takeaway) in home defeats to the Bills, Packers and Dolphins.
"We're playing good football teams each and every week," said coach Marc Trestman. "Turnovers obviously hurt you. When you turn the ball over, you take yourself out of it.
"I think that a lot of it is turnover-related. If you look at the games, I think there is some reasonably good execution—at times some very good execution—in terms of how we're utilizing our offense particularly, but today we didn't do that."
The Bears were limited to 54 total yards and two first downs in the first half, running just three plays in Dolphins territory and never advancing beyond the Miami 37.
"They did a good job of coverage, they really did," said quarterback Jay Cutler, who completed 21 of 34 passes for 190 yards with one touchdown, one interception and a 74.4 passer rating. "They mixed it up. They took away a lot of the deep shots for us. They took away a lot of the stuff 10 yards and beyond. They made it difficult."
Asked what the Bears need to do to improve, Cutler said: "We've got to protect the ball. We've got to convert on third downs. We've got to get a rhythm going. We've got to get Matt going a little earlier in the game. I've just got to lead this group and try to find a way to make sure we play clean football for four quarters."
Cutler acknowledged that the Bears' locker room was emotional following Sunday's defeat.
"It was a tough loss," he said. "Guys wanted to win this one, a home game. After a good win at Atlanta, we wanted to come back home and get a big win here and get some momentum going into New England [next Sunday]. Guys are really down on this one, myself included.
"But the good thing is we've got another one next week. We've just got to rally and get ready for New England before the bye [week]."
Cutler provided some levity when asked how the Bears prepare differently to play at home than on the road, where they are 3-1 this season. "We don't get on a plane," he said.
Forte is surprised that the Bears are 0-3 at home.
"Road games are the hardest ones to win. Apparently, we switched the way that is this year," he said. "We've been struggling at home, and we have to do something to fix it. We'll have to go back to the drawing board this week at practice and not think about how we're 0-3 at home but continue to look forward to working on things that are making us lose these games. Every time we're losing these games, we're shooting ourselves in the foot."