Eager to build cohesiveness up front, Bears offensive coordinator Mike Tice said Monday that he's sticking with J'Marcus Webb at left tackle and Gabe Carimi at right tackle until further notice.
Webb entered training camp competing with Chris Williams for the left tackle job, but the third-year pro has taken most of the first-team reps in recent days and will start Thursday night's preseason opener against the Broncos. The rest of the No. 1 line consists of left guard Chris Spencer, center Roberto Garza and right guard Lance Louis.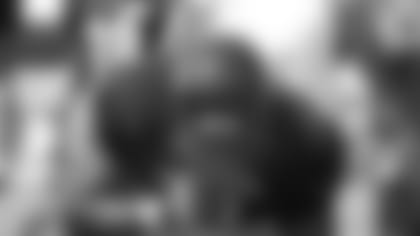 Third-year pro J'Marcus Webb started all 16 games at left tackle for the Bears in 2011.
"We're going to go with Webb and Carimi for now," Tice said. "Gabe's knee is really coming around. We're going to still evaluate the game and if one guy in a backup role steps up and has a great game, then we'll re-evaluate that. But for now we're going to put those five guys in there and let them work together and see if they can gel.

"At the same time we are out of installation mode and—starting with our game against Denver—we can start looking at the protection schemes we're going to use throughout the season."

Webb, a 2010 seventh-round draft pick from West Texas A&M, started all 16 games at left tackle last season after opening 12 games at right tackle as a rookie.

Williams, a 2008 first-round choice from Vanderbilt, joined the Bears as a left tackle before being moved to right tackle in 2009. He returned to left tackle late that season before switching to left guard in 2010. Williams started the first nine games at left guard in 2011 before sustaining a season-ending wrist injury.

"I thought that one guy would separate himself and really jump out there," Tice said. "I don't think that has happened. So for me let's keep the status quo and see where the games take us.

"I'm not in a rush to change for change's sake and we're hoping that a guy in his third year, Webb, will step up and mature as a football player and as a person and get better and show us that this means something to him."

Williams' pursuit of the left tackle position got sidetracked when he was needed to split reps at right tackle with Carimi, who is rebounding from a knee injury that sidelined him for the final 14 games last season.

"With Gabe's knee being sore a week ago, we had to get somebody over there that had some experience to take some reps off Gabe because he was in a little bit of a bad way there for a couple days," Tice said.

"We took some reps off him and it seems to have worked. He's not taking all the reps with the ones. That's just the way it is. You've got to play the hand you are dealt and when you are dealt that hand you make a decision and you go with it.

"I wasn't going to put [undrafted rookie] James Brown or [first-year pro] Cory Brandon over there to protect Jay Cutler. We have enough trouble doing it with the ones. So we're going to make sure that we had someone over there to take those reps off of Gabe that had played and that was that." [ ](http://www.phoenix.edu/campus-locations/il.html?utmsource=Story&utmmedium=instory&utmcampaign=300x100)
Tice is pleased with how Carimi responded to the rest.
"We know that Carimi is a very good player," Tice said. "It's just a matter of how long it was going to take him to bounce back from the injury. He had a rough start and has seemed to have settled down. He told me he feels about 80 percent better, so that is a good thing, and he has put together four good practices in a row, which is good."