With the Bears signing free-agent left tackle Jermon Bushrod, last year's starter at the position will shift to right tackle, where he'll compete with Gabe Carimi and Jonathan Scott for the No. 1 job.
But that's just fine with J'Marcus Webb, who has grown accustomed to proving himself since joining the Bears in 2010 as a seventh-round draft pick from West Texas A&M.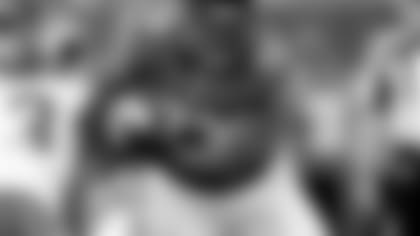 J'Marcus Webb has started 44 straight games, third most on the Bears.
"Things happen and you can't control a few things, but it'll be a great move," Webb told reporters Tuesday while attending the Ed Block Courage Award luncheon at Maryville Academy in Des Plaines. "I can play right tackle ... I can move my hands a little bit, so it should be fun."

In 2010, Webb started the final 12 games of his rookie year at right tackle, helping the Bears win the NFC North title and advance to the NFC Championship Game. The 6-7, 333-pounder then moved to left tackle, where he started all 16 games each of the past two seasons.

Asked which position he prefers, Webb said: "In this league you have to be versatile, and to play on Sunday you have to play both sides. I'm here and able to do anything the Bears ask me to. I just kind of go at it with open arms."

Webb felt he improved last season and is eager to continue his development.

"I definitely took a step forward and, like I said, I'm just here to help in any way possible," he said. "It'll be fun to get back with the guys and see how this offense takes off."

Webb was happy to reunite with teammates Tuesday when the Bears kicked off their voluntary offseason program and is excited about working with new head coach Marc Trestman.

"I've been in contact with coach Trestman for over a month now, and he's a great guy," Webb said. "He seems real interested in serving the Bears organization and helping us win some games and get everybody acclimated. The new coaching staff is fun. They're excited, and so are we as players."

While driving home to train in Texas in late February, Webb was arrested in southern Illinois and charged with possession of a controlled substance, cannabis and paraphernalia. But the charges were dropped a few days later.

"It has all been cleared up," said the 24-year-old. "I'm young and you make some mistakes sometimes. You don't look down upon it. You just kind of move forward and look at things in a positive manner, and definitely I'm ready to be back here in Chicago and ready to get back to work."