Jordan Howard, Cody Whitehair and Leonard Floyd were all voted to the NFL All-Rookie Team in 2016 after being selected by the Bears in the draft.
With the NFL Scouting Combine set to take place next week in Indianapolis, we took a look back at what the three future Bears had to say at last year's event.
Howard was asked by reporters why he declared for the draft with one year of college eligibility remaining. He played his first two seasons at Alabama-Birmingham before transferring to Indiana as a junior after UAB dropped its football program.
"I felt like I was ready," Howard said last year. "I felt like I had matured enough to play in the NFL. I was ready for the next challenge and I know I was getting close to almost 800 carries in my career and running backs don't have that long of a life span."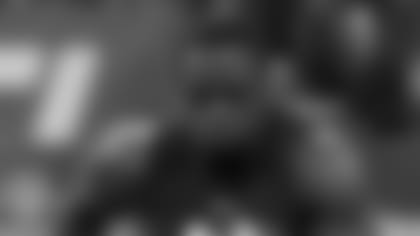 Bears rookie Jordan Howard finished second in the NFL in rushing in 2016 with 1,313 yards.


Howard rushed for 2,468 yards and 15 touchdowns on 451 carries in two seasons at UAB and followed with 1,213 yards and nine TDs on 196 attempts at Indiana in 2015. He declared for the draft after speaking to his mother, uncle and position coach, saying: "They were telling me they would support whatever decision I would make."
Howard clearly made the right choice; he set Bears rookie rushing records with 1,313 yards and seven 100-yard games and became the franchise's first rookie running back to be voted to the Pro Bowl since Gale Sayers in 1965.
Whitehair's versatility was one of the main reasons the Bears selected him in the second round. After splitting time between left guard and right tackle his first two years at Kansas State, he started exclusively at left tackle his final two seasons.
Asked at the Combine which position he felt best suited to play, Whitehair said: "I would say guard, but at the end of the day I think I can play both guard and tackle. If somebody needed me to play center as well, I feel like I can master that as well."
It turned out that the Bears were that "somebody" that needed Whitehair to play center. After incumbent Hroniss Grasu suffered a torn ACL and veteran left guard Josh Sitton was signed, Whitehair was moved to center about a week before the start of the regular season and excelled at his new position, starting all 16 games.
Of course, that shouldn't come as a big surprise given the confidence that Whitehair expressed when asked at last year's Combine about making an immediate impact in the NFL.
"I feel like I can use what I learned at Kansas State to really be successful there in the league," Whitehair said at the time. "I feel like I'm a tough player. I'm a consistent player and I can help a team out."
The Bears traded up two spots to select Floyd with the ninth overall pick in the draft. Asked at last year's Combine what aspect of his game he felt would translate to the NFL, the Georgia product said: "Probably my speed. I can use my speed to beat tackles. That probably will translate well."
Floyd was correct; his speed helped him record seven sacks in 12 games, the third most by a Bears rookie behind defensive end Mark Anderson's 12 in 2006 and middle linebacker Brian Urlacher's eight in 2000.
Floyd missed four games with a calf injury and two concussions as a rookie. But he showed great promise, recording 33 tackles, seven sacks, one forced fumble, one fumble recovery and six tackles-for-loss.
Floyd produced arguably the Bears' top play of the year when he sacked Packers quarterback Aaron Rodgers, forcing a fumble that Floyd recovered in the end zone for a touchdown in a Week 7 loss in Green Bay. Floyd generated more points in a Week 13 win over the 49ers when he sacked Blaine Gabbert in the end zone for a safety.