Here are four things we learned in the Bears' 20-14 loss to the Lions Sunday at Soldier Field:
1) Jimmy Clausen can play in the NFL. Making his first start in four years in place of Jay Cutler, Clausen played efficient mistake-free football after shaking the rust off early. He passed for two touchdowns and did not commit a turnover until he was intercepted on a desperation throw down the field on fourth-and-10 late in the game. Clausen completed 23 of 39 passes for 181 yards and a 77.0 passer rating. His numbers would have been better had the Bears not dropped several passes.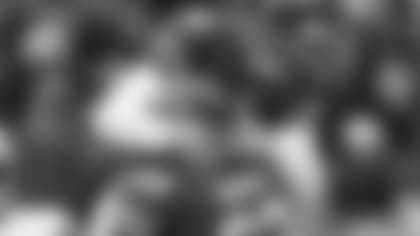 Jimmy Clausen celebrates with center Roberto Garza after throwing a TD pass in Sunday's loss to the Lions.
With the performance, Clausen likely earned a chance to compete for a No. 2 job next season, either in Chicago or elsewhere. After playing in 13 games with 10 starts as a rookie with the Panthers in 2010, he served as Cam Newton's backup for two seasons and then missed all of last year with a shoulder injury he sustained in Carolina's preseason finale.
Clausen signed with the Bears June 5 and completed 24 of 37 passes for 280 yards with two touchdowns, one interception and a 94.4 passer rating in three preseason games. He said he was confident in himself once he knew he had recovered from shoulder surgery.
"Playing in the preseason, after my shoulder surgery, I just wondered how my shoulder was going to feel, going out, playing in a game," Clausen said. "But after the first preseason game I had all the confidence in the world. I've just had that ever since. I'm a confident guy."
2) The Lions are still the Lions. Known for playing beyond the whistle and bending the rules at times under previous coach Jim Schwartz, the Lions delivered another cheap shot Sunday when center Dominic Raiola stomped on the back of defensive tackle Ego Ferguson's leg while the rookie was flat on the ground. The Bears were incensed by what many perceived as a deliberate attempt to injure Ferguson.
"There's no need for it," said defensive end Jared Allen. "That's our guys' careers here. You can break someone's ankles."
After the game, Raiola insisted that what happened was an accident.
"I was kind of stumbling," he said. "It was totally unintentional. I talked to Ego at the end of the game. Everything was cool. I apologized. [The Bears] thought it was intentional. I told them right away that it was unintentional. I talked to them at the end of the game, you know, shook hands, wished guys a Merry Christmas."
Last month in a 34-9 loss to the Patriots, Raiola dove at defensive lineman Zach Moore's knees on the game's final play as Lions quarterback Matthew Stafford was taking a knee to kill the clock. After that incident, Raiola said: "I know I didn't intentionally try to hurt anybody."
3) Bears rookies are improving. Injuries to key starters have decimated the Bears defense this season, giving rookies a chance to gain valuable playing time.
On Sunday, safety Brock Vereen recorded his first NFL interception, linebacker Christian Jones led the Bears with 11 tackles and registered his first pro sack, and cornerback Kyle Fuller played much better against Pro Bowl receiver Calvin Johnson than he did in the first meeting between the teams on Thanksgiving Day in Detroit.
On offense, the Bears started a pair of undrafted rookies at guard in Ryan Groy and Michael Ola, and the line did a decent job of protecting Clausen from a fierce Lions defense.
4) The gap between the Bears and top teams in the NFC North remains wide. In getting swept by both the Packers (11-4) and Lions (11-4) for the first time since 1997, the Bears were outscored 147-62, losing those four games by an average margin of 21 points.