Blocking for Devin Hester is a lot more fun than trying to tackle him.
No one knows that better than Bears special teams standout Blake Costanzo, who played against Hester in a 2009 game at Soldier Field as a member of the Cleveland Browns.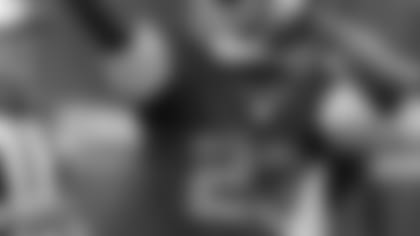 Devin Hester fires up the Soldier Field crowd during Sunday's 31-30 win over the Vikings.
Hester returned a punt 69 yards for a touchdown late in a 30-6 win that day, and even though the play was nullified by a holding penalty, Costanzo described the experience as "terrible."
"You can't prepare for him, no matter what you do," Costanzo said. "The only way you can prepare for him is if you kick the ball out of bounds or out of the end zone.
"Blocking for him, you don't really have to do much. You've just got to get your hand on a guy for a little bit and just enjoy watching him, enjoying being his teammate."
Costanzo did just that in last Sunday's 31-30 win over the Vikings as Hester set a Bears single-game record with 249 kickoff return yards, including returns of 76 and 80 yards that both immediately followed momentum-swinging touchdowns by Minnesota. The effort earned Hester NFC Special Teams Player of the Week honors for the 13th time in his illustrious eight-year career.
"He's just a playmaker," Costanzo said. "His whole life he's been making plays, and it's just something he has. He has an intangible that not many people have. When he's in that zone, he's just so dangerous. It's hard to go against him because you never know where he's going to go."
Hester entered the season as the NFL's all-time record holder with 17 combined kick return touchdowns and 12 punt return TDs. He's been voted to three Pro Bowls and became the first player in NFL history to return the opening kickoff of a Super Bowl for a touchdown.
Against the Vikings, Hester seemed to have an extra bounce in his step, which could be attributed to him working exclusively as a return specialist after six seasons doubling as a wide receiver.
"It helps out a lot, just throughout the week mentally preparing," Hester said. "I spend more time with the special teams unit and more time with the coaches on game-planning our opponent."
Coach Marc Trestman remembers that Hester was the one who first broached the possibility of playing only on special teams during a meeting in January.
"The conversation to my recollection was, 'It sounds to me like you just want to be a returner, and that's OK with me. I would like you to be the returner and focus solely on that,'" Trestman said. "I don't ever remember me telling him that that was the way it was going to be. I remember our conversation being more like, 'I know that's what you want to do, and I'm all in.'"
Trestman was thrilled to see Hester make such a big impact in the win over the Vikings.
"I came in here as a Devin Hester fan," said the Bears coach. "I've been watching him for years and always got excited to see what he could do on the field. Just to get to know him, it was easy early on to converse with him and to see his love for the game and love for the Bears.
"So when we put this into practice of just locking him into being a returner, we were excited to see some of that, and a little bit of it happened certainly on Sunday."
It remains to be seen whether the Steelers will kick to Hester Sunday night at Heinz Field. Pittsburgh coach Mike Tomlin was Vikings defensive coordinator in 2006 when Hester returned a punt 45 yards for a touchdown in a 23-13 win over Minnesota at Soldier Field.
"Like anyone else, you try to limit your exposure to him, first and foremost," Tomlin said. "He's one of the most legendary return men for that reason. If given a number of opportunities, he's going to get you. You work to minimize those, but obviously you understand that over the course of the football game he's going to have his opportunities, and you better go about it in an intelligent manner with respect for what he's capable of."