No one was happier to participate in the Bears' first training camp practice Thursday than receiver Kevin White, who missed his entire rookie season last year with a leg injury.
"I was so excited, kind of like a kid in a candy store," White said. "Last year I was very frustrated, a lot of stress, and this year I'm out there having fun and I'm able to contribute."
Selected by the Bears with the seventh pick in last year's draft out of West Virginia, White injured his leg in OTAs and opened training camp on the physically unable to perform list.
"Last year I was in the training room," White said. "I was able to watch a little bit. But this year I'm healthy, ready to go, in shape, and I'm looking forward to getting better, and trying to get on the same page with Jay [Cutler] and the rest of the offense."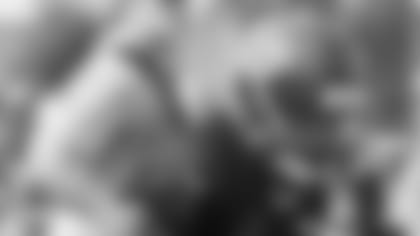 Kevin White during the Bears' first training camp practice Thursday.


After being cleared to participate in the offseason program without restrictions, White practiced with his teammates first in OTAs and then in minicamp.
"OTAs were a little rough; ups and downs," White said. "Minicamp felt good just getting more reps and getting used to the speed of the game."
Asked if he feels like a rookie entering this year's training camp, White said: "In OTAs I did. But I can't be a rookie out here. I've got to step up to the plate and do what I have to do to try to help this team win some games."
White emerged as a star at West Virginia in 2014, catching 109 passes for 1,447 yards and 10 touchdowns. But after missing all of last year, he's determined to prove himself all over again at the NFL level.
"I always have that mindset," White said. "Last year I had the mindset I wanted to go out and prove I could play with the best of them. This year I have the same mindset. If you don't have that mindset you kind of get lost and kind of get a little bit complacent."
Working closely with the young receiver, Cutler has been impressed with White's attitude.
"He's ready to work," said the Bears quarterback. "You couldn't ask for a better attitude, a better guy. He feels extremely bad about not being able to contribute last year, not being out there on the field, because that's all he wants to do is play football.
"He works his tail off. He did everything we asked him to do. He did everything I asked him to do and more so we're excited for him."
Cutler knows that it won't be easy for White to make up for the time he missed.
"For anybody taking a year off football, jumping back into it is going to be hard," Cutler said. "As a rookie missing kind of that vital year, where you learn so much that first year jumping into that second year, it's a big miss for him. But he's so physically gifted I think he's going to make it up really, really quickly.
"It's just a matter of him letting those athletic gifts come through and him getting comfortable with the system and the verbiage and the splits and everything else that he's got to learn and being at a place where he doesn't have to think, he can just go out and play football. I think once we hit a fast forward button and get to that point, he's going to be something special."