After serious leg injuries in his first two NFL seasons forced Kevin White to miss 28 of 32 games, the receiver's sense of urgency is currently at an all-time high.
"It's got to happen now," White said Tuesday after participating in an OTA practice at Halas Hall. "I've got to turn it up. Even in Year 1, Year 2, I always wanted to turn it up and show what I could do, so to me, in Year 3, it's time."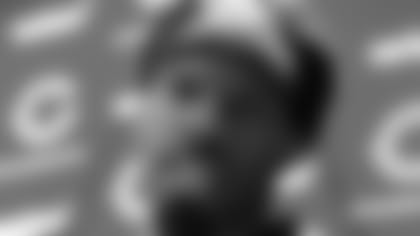 Bears wide receiver Kevin White spoke to reporters at Halas Hall on Tuesday.


Selected by the Bears with the seventh pick in the 2015 draft, White missed his entire rookie season with a stress fracture in his left leg and then broke his fibula in the same leg in the fourth game last year, eventually undergoing surgery for the second straight year.
White has shown promise when healthy; his 19 receptions last season were the most ever by a Bears player in his first four NFL games. The key as he enters his third year, of course, is for the 6-3, 215-pounder to stay on the field and out of the training room.
"I've really enjoyed getting to know Kevin on and off the field," said new Bears quarterback Mike Glennon. "He's a great guy. He works his butt off.
"He's a big body. He's fast. He's got a good catch radius. It's just got to all come together and I think it will once he plays. He hasn't had a big opportunity to play. Once he gets out there, I think he's going to do a lot of good things."
Getting to know you: Glennon has made a positive first impression on new Bears receiver Victor Cruz.
"I think he's done a good job," Cruz said. "I think he has a command of the offense. He understands the offense, even in a short period of time, and you can see he's getting more and more comfortable as practice goes on. That's all you can ask for."
Glennon called Cruz last Monday to see if the two could have dinner together that night. But the receiver was unable to meet because he was flying into Chicago.
"He wanted to have dinner and talk a little bit," Cruz said. "At some point I'll link with him, sit down and pick his brain and learn the nuances of the offense and try to go from there."
Inside job: Cruz told reporters that he feels he's best suited to line up inside.
"In the slot, I think that's where I'm most comfortable," he said. "I'd like to play all over, wherever coach wants me to play. I think last year I proved that I can play some outside with the Giants and things like that. But I think my most comfortable, most natural position is the slot and then we can expand it from there."
After missing the last 10 games in 2014 and the entire 2015 season due to injuries, Cruz returned to action last year with the Giants, catching 39 passes for 586 yards and one touchdown while appearing in 15 games with 12 starts.
It's in the hole: Bears defensive coordinator Vic Fangio recorded the second hole-in-one of his life during a round of golf on Memorial Day at Menlo Country Club in Redwood City, Calif.
Fangio said he used a pitching wedge on the 116-yard 16th hole en route to shooting an impressive 81. His only previous hole-in-one came about 25 years ago.