After missing his entire rookie year with a stress fracture in his shin, Bears first-round draft pick Kevin White has big plans for the offseason.
"I'm going to get stronger, get the quickness back and just train hard like I've always done," said White, the seventh overall pick in the 2015 draft from West Virginia.
Though White practiced for two weeks late in the season before ultimately landing on injured reserve, he spent most of the last six months on the sideline since sustaining the injury during OTA workouts in June.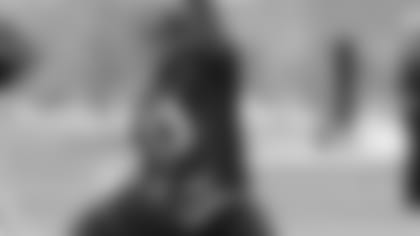 Kevin White caught 109 passes for 1,447 yards in 2014 for West Virginia.


"It was a good learning experience, seeing the older guys, seeing how this organization handled things, staying in the older guys' ears; Jay Cutler, Eddie Royal, a couple other guys," White said. "So it was a learning experience but I'm ready to go for next year."
The Bears are eager to see a healthy White back on the field in 2016. The 6-3, 217-pounder blossomed at West Virginia in 2014, catching 109 passes for 1,447 yards and 10 touchdowns. He opened the season with a school-record seven straight 100-yard games.
"I'm always careful about putting expectations on guys," said general manager Ryan Pace. "But the good thing about Kevin is he's really intelligent, he's a really hard worker and we treated him really like player 54 this year; traveling with us, being in the meetings, going through that practice period while on PUP. That was beneficial.
"He's gained a lot of confidence. I think he's going to hit things full speed. I'm really excited to kind of unleash Kevin and let everybody see his progress."
Pleasant surprise: It has not yet been determined whether Charles Leno Jr. Jr. is the Bears' long-term answer at left tackle, but the 2014 seventh-round draft pick performed very well while starting the final 13 games at the position this season.
"Leno was a real pleasant surprise, really exceeded expectations," Pace said. "I thought also as he gained confidence he got better and better. He's very athletic. He's long. He's got good balance. Leno did very well. We're going to closely evaluate every single player on the team. But we have positive vibes of him coming out of the season."
Growth process: Pace was also pleased with the progress that cornerback Kyle Fuller made in his second season. The 2014 first-round pick from Virginia Tech recorded 56 tackles, two interceptions and 15 pass breakups.
"I thought he got better and better as the season went on and he gained confidence," Pace said. "I think he'll get even better this offseason. I think he really learned how to study his opponent and anticipate things better. I think that's just part of his growth process, but I think he's an ascending player and we have a lot of confidence in him."
Roster news: The Bears signed nine players from their practice squad to reserve/futures contracts this week: Cornerback De'Vante Bausby, quarterback Matt Blanchard, center Cornelius Edison, running back Paul Lasike, receiver Marcus Lucas, linebacker Danny Mason, receiver Nathan Palmer, tight end Gannon Sinclair and guard Martin Wallace.