Kevin White's horrendous luck continued late in Sunday's loss to the Atlanta Falcons when the Bears receiver suffered a serious injury for the third time in as many NFL seasons.
Coach John Fox revealed Monday that White sustained a fractured scapula early in the fourth quarter when he was hit by cornerback Brian Poole and rookie defensive end Takkarist McKinley after catching a short pass. White will be placed on injured reserve but possibly could return late in the season. A new rule adopted this year permits NFL teams to activate two players off IR.
Asked if White will need surgery, Fox said: "I'm not 100 percent sure of the that. I think that's a possibility, not ruling it out, but I know he will go to IR."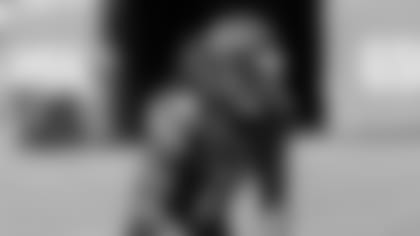 Kevin White is sidelined with another injury.


Selected by the Bears with the seventh overall pick in the 2015 draft out of West Virginia, White missed 28 of 32 games over his first two seasons due to two serious leg injuries.
The 6-3, 216-pounder sat out his entire rookie year with a stress fracture in his left leg and then broke his fibula in a Week 4 win over the Detroit Lions last season after catching 19 passes—the most by a Bears player in his first four NFL games in franchise history.
"My heart goes out to him," Fox said Monday. "He was very disappointed and discouraged in the locker room after the game for obvious reasons. Our thoughts and prayers go out to him. He was pretty upset about it last night and they're doing evaluations right now."
With White's injury, the Bears have now lost both of their starting receivers. Third-year pro Cameron Meredith, who had a breakout season last year with 66 receptions for 888 yards and four touchdowns, was placed on injured reserve after tearing his ACL Aug. 27 in a preseason win in Tennessee.
Two receivers who could help fill the void created by White's injury are currently on the Bears' 53-man roster in Markus Wheaton and Tre McBride.
Wheaton underwent an appendectomy and broke his pinkie during training camp but appears to be close to returning following surgery on his finger. The 5-11, 185-pounder will bring a much-needed speed component to the receiving corps when he returns to action.
Wheaton signed with the Bears in March after spending his first four NFL seasons with the Steelers. He had a breakout season in 2014, compiling 53 receptions for 644 yards and two TDs. He followed in 2015 with 44 catches for 749 yards and five touchdowns. But Wheaton sustained a shoulder injury last preseason that limited him to three regular-season games before he was placed on injured reserve Nov. 19.
McBride was claimed off waivers Sept. 3 from the Titans. The 6-foot, 210-pounder appeared in nine games the past two seasons for Tennessee, catching two passes for eight yards.
"He spent last week getting kind of oriented in our offense; he's a possibility," Fox said. "Markus Wheaton is improving. He did actually practice last week, albeit with a fairly major club on his hand. Then we'll have some options, looking around the league as well."
Fox knows that it won't be easy to bring in a receiver off the street.
"That's all part of when injuries happen in the league is how thick your roster is at that position and how fast you can get a guy schooled up," Fox said. "We dealt with that more than our share last year and it's not unusual but we'll adjust."
Fox revealed that receiver Tanner Gentry also could be an option. The undrafted rookie from Wyoming is currently on the Bears practice squad after failing to make the 53-man roster despite catching several deep passes in training camp and the preseason.