Kevin White has yet to have a breakout game. But after missing his entire rookie season last year with a leg injury, the 2015 first-round pick has gotten better each week.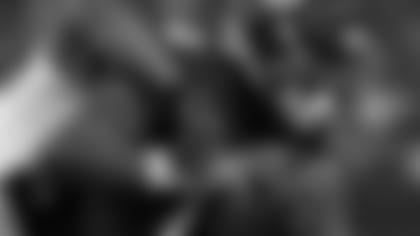 Kevin White had six catches for 62 yards in Week 3.


As a matter of fact, White has increased his production in every game, from three receptions for 34 yards against the Texans to 4-36 versus the Eagles to 6-62 against the Cowboys.
"I believe he's shown steady improvement each time he's out there, even in preseason," said coach John Fox. "Considering that he didn't play last year, he's like a rookie."
White was targeted 14 times by quarterback Brian Hoyer last Sunday night in Dallas and responded by making some impressive catches.
"I think Kevin took a big step as far as building some confidence," said offensive coordinator Dowell Loggains. "He played well. [Alshon Jeffery] wasn't at full speed and we started pushing the ball more towards Kevin's side. It was nice to see him step up and make some tough catches. He started getting open versus some press coverages and had a better feel in zone."
Loggains expects White to continue to make strides moving forward.
"He's a guy who's a pleaser," Loggains said. "He wants to do well. He wants to do his part. Each week he's continued to grow and he keeps stacking better and better games up. And the more he does, the more he's going to learn to get a feel for the position."
Cutler sits out: After being limited in practice Wednesday by his sprained right thumb, quarterback Jay Cutler was held out of Thursday's workout.
"We just didn't want to aggravate it more," Fox said. "A thumb of a throwing hand of a quarterback is a delicate situation. So we just figured we wouldn't go out there and have any stress on it."
Fox insisted that Cutler did not suffer a setback just because he was held out of practice one day after being limited, saying the quarterback did not do "a whole lot" Wednesday.
"It doesn't take too much to quantify limited," Fox said. "It's kind of what it is. We just felt it was better to just have him rehab and continue to strengthen it."
Loggains knows that Cutler will be back leading the offense as soon as he can.
"This guy is the toughest guy I've ever been around in 12 years coaching in the National Football League," Loggains said. "He is resilient. The minute that he's ready to go and gets healthy and is ready to play, then if Coach feels that way and we feel that way as an organization, then he'll be out there."
Injury update: Fox was back to work at Halas Hall Thursday after staying home Wednesday due to a stomach bug. But not all of his players were as lucky.
In addition to Cutler, running back Ka'Deem Carey (hamstring), nose tackle Eddie Goldman (ankle), running back Jeremy Langford (ankle) and linebacker Danny Trevathan (thumb) did not practice.
Seven players were limited: Jeffery (knee), defensive end Jonathan Bullard (toe), safety Harold Jones-Quartey (concussion), cornerbacks Sherrick McManis (hamstring) and Tracy Porter (knee), guard Josh Sitton (shoulder) and outside linebacker Willie Young (knee).
For the Lions, defensive end Ezekiel Ansah (ankle) and linebacker DeAndre Levy (quad) did not practice. Receiver Marvin Jones Jr. (hamstring), tight end Eric Ebron (ankle) and tackle Riley Reiff (ankle) were among eight players listed as limited.
Zach attack: Loggains was pleased with tight end Zach Miller's performance in Dallas. The veteran tight end tied a career high with eight receptions for 78 yards and two touchdowns. It was the third multi-TD game of Miller's seven-year NFL career and second with the Bears.
"It was gutsy because he was banged up," Loggains said. "Played through a lot. I was really impressed with him and really proud of the way he stepped up. He has such a good feel in zone. He's such a smart player. He did a really good job for us."