Bears general manager Ryan Pace announced Saturday that first-round draft pick Kevin White will undergo surgery and miss at least the first six games of the season.
White sustained a stress fracture in the lower part of his shin during the latter portion of OTA workouts in June. The Bears kept him off his leg in hopes that it would heal on its own and were extremely pleased when he reported to training camp symptom-free.
But White suffered a setback early this week while doing some light running and the decision was made to have a rod inserted into his tibia.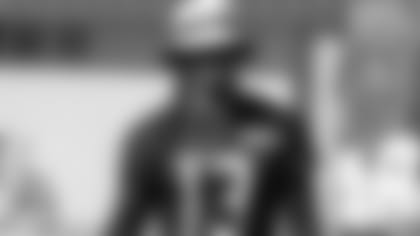 Bears rookie Kevin White will have surgery to repair a shin injury in the near future.
"At this point in time for his long-term future, the best course of action is going to be to perform surgery to stablize the stress fracture," Pace said.
White will open the regular season on the physically-unable-to-perform list, which means that he will miss at least the first six games of the season.
"Kevin will remain on PUP," Pace said. "That gives us the option of bringing him up in the later portions of the season if need be. But I want to state that our whole focus right now is his long-term health. I know he's going to be a great player for the Chicago Bears.
"I want to make sure that we protect him. He's dying. He's disappointed. He's dying to get out there. I'm focused on his long-term health right now. I can think back to a lot of rookies as you look at the history of the NFL that have had some setbacks and I know this is going to be a blip on the radar as he has a long, successful career."
Pace acknowledged that White, the seventh overall pick in the draft, could miss his entire rookie season.
"He'll convert from active PUP to reserve PUP and then that gives us the option to bring him up in the later part of the season," Pace said. "Honestly, is there a chance that he misses the season? That's a possibility. I want to make sure we do this the right way, not rush him back. Sometimes I feel like you have to protect them from themselves."
The Bears thought they had turned a corner with White before he suffered the setback.
"He looked pretty hopeful the first day running on grass, but not so much the second day," said coach John Fox. "He's going to be a heck of a football player. He's a great young man. It's unfortunate it happened in the OTAs. We thought the rest might get it better, but unfortunately it didn't. We need to fix it long-term and get him ready to play his NFL career."
With White out indefinitely, Alshon Jeffery, Eddie Royal, Marquess Wilson, Joshua Bellamy and Cameron Meredith will be among the receivers asked to help fill the void.
"It gives other guys opportunities," Fox said. "We'll have a next-man up approach whether it's here, in the season or in the postseason. You keep 53 men on the roster and you keep them for a reason; because you think they can play. It's an opportunity for guys to step up. We'll always look to improve our roster. That will not change. We'll see who steps up."
It has not yet been decided who will perform the surgery or the exact date, but Pace said it will occur "in the near future." The team is working with White and his agent to finalize the details.
As you would expect, Pace said that White is very disappointed that he needs surgery.
"He's emotional," said the Bears general manager. "I know he sincerely cares about this organization, about his teammates, about coach Fox. It's from the bottom of his heart.
"There are a lot of guys in our league that are selfish and think about themselves. Kevin thinks about his team and others. I think you find out a lot about people through adversity and to me it has confirmed all the reasons why we loved him in the draft."