Bears rookie receiver Kevin White took another step in his recovery from leg surgery Wednesday, participating in individual drills in practice for the first time since June.
"It felt good," said White, the seventh overall pick in the 2015 NFL Draft. "Just a little weak maybe, but it felt good. It felt good to be back out there, joking around, being competitive, talking to the defense a little bit."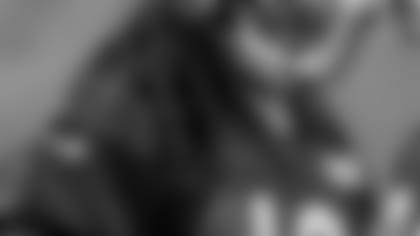 Bears rookie receiver Kevin White participated in individual drills in practice for the first time since June.
White sustained a stress fracture in the lower part of his shin during OTA workouts in June. The 6-3, 217-pounder later suffered a setback while doing some light running in training camp in August and underwent surgery.
White has been on the physically unable to perform list since the summer. The Bears opened his 21-day practice window last Tuesday, giving them three weeks to decide whether to add him to their active roster or put him on season-ending injured reserve.
The deadline for the Bears to make that decision is Dec. 15. Asked Wednesday if he can hear the clock ticking, White said: "Yeah, I'm very aware. I know exactly when [it is]. That's why I'm pushing myself a little bit. I'm still being smart with it, but I'm aware."
The most animated that White got during a four-minute interview with reporters Wednesday was when he was asked whether he's pushing to play in a game this season.
"Yeah, I'm pushing to play," he said. "Shoot, if I wasn't pushing to play, I wouldn't be out there. So definitely. It's really important. If it wasn't important, I would be in the treatment room. I would have just told [general manager Ryan] Pace or [coach John] Fox to IR me. But I want to play. I want to help the team out."
White estimated that half of his recovery is mental and said that the final hurdles he needs to clear physically are to "get it stronger, get it equal with my right leg and then after that, being comfortable running routes again."
White was drafted by the Bears in the first round after he blossomed as a senior last year at West Virginia, catching 109 passes for 1,447 yards and 10 touchdowns. He opened the 2014 season with a school-record seven straight 100-yard games and set another West Virginia mark for most receptions in a game with 16 against Texas.