Bears receiver Kevin White is vowing to learn from the miscue he made in his first NFL game in last Sunday's season opener against the Texans.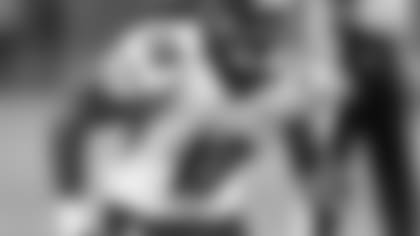 Week 2 against the Eagles will be Bears receiver Kevin White's second NFL game.


The 2015 first-round pick stopped running across the middle on a pass route, resulting in Jay Cutler's pass being intercepted by Houston safety Andre Hal.
"It was a different look that we got," White said Thursday at Halas Hall. "Wasn't expecting it. Should've ran out and just stayed with my job, but it caught me off guard. The more reps I get, the more game time I get, I'll get a lot more comfortable with it."
Selected with the seventh pick in the 2015 NFL Draft, White missed his entire rookie season last year with a leg injury and is still in the process of developing cohesiveness with his teammates. He conceded Thursday that last Sunday's mistake "weighed on me a little bit."
"I hate messing up," White said. "I like to try to be perfect and do a lot of exciting things. I could do better. Can't hang my head. Have to move on and can't let it get me twice.
"I've got a lot of work to do. Got to be better trying to execute my job, But as the season goes on, we'll get more comfortable being on the same page. Just got to get more reps. Game reps will help. I'm excited, not worried or panicking or anything like that."
Good start: Bears rookie outside linebacker Leonard Floyd also made his NFL debut against the Texans. The 2016 first-round pick recorded five tackles, a half sack, one tackle-for-loss and one quarterback pressure.
"I think for the most part he was doing what he was supposed to be doing," said defensive coordinator Vic Fangio. "He played hard. He's capable of playing better, but the only way you're going to get better is to play. He's a young guy and he needs to be out there playing."
Floyd was on the field for 60 of 75 defensive snaps, the most by a Bears outside linebacker. Fangio conceded that the rookie probably "played a handful too many" but saw so much action in part because "his pass coverage techniques and responsibility is a strength of his."
Home sweet home: In hosting the Eagles Monday night at Soldier Field, the Bears will look to begin improving on a franchise-worst 1-7 home record last season.
"One-and-seven is not anything to write home about, for sure," said coach John Fox. "So we've got an opportunity to open up our home opener this year for the '16 season on Monday Night Football. So I don't think it gets much better than that."
Asked if the Bears have made any changes in their approach to home games, Fox said: "I think we're pretty much looking at everything and you do try to adjust it. But I've always been a firm believer that it's more about who [you play] than what you're doing."
Feeling better: The Bears are much healthier than they were last week, with only cornerback Kyle Fuller limited in Thursday's practice due to a knee injury. The Bears went into their season opener with nine players listed as questionable on the injury report.