Bears quarterback Jay Cutler is happy to see rookie receiver Kevin White back on the practice field with his teammates this week, participating in individual drills.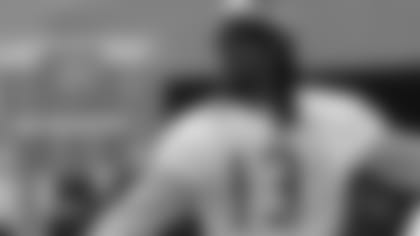 Rookie receiver Kevin White is back on the practice field with his teammates this week, participating in individual drills.


The seventh overall pick in this year's draft returned Wednesday for the first time since he sustained a stress fracture in the lower part of his shin during OTA workouts in June.
"I think it was big not only for him but for us just to see what he can do, a little breath of fresh air," Cutler said. "He's got some burst to him. You can see the talent is definitely there. He just has to start trusting his leg and get in better football shape and learn the offense better."
White has been on the physically unable to perform list since the summer. The Bears opened his 21-day practice window last Tuesday, giving them until Dec. 15 to decide whether to add him to their active roster or put him on season-ending injured reserve.
Seeing White back on the practice field, offensive coordinator Adam Gase is beginning to contemplate how he would utilize the first-round pick if he's cleared to play in a game.
"I try to think what would be the right thing to use him for," Gase said. "When you're a first-year player in the league, you're not going to grasp everything right away. So especially with the limited time that we've had him, it's 'what should we do with him if he does get out there' and 'what's going to be the best thing that he can do to help contribute?'"
In the running: Like Bears defensive coordinator Vic Fangio, Gase also interviewed for the 49ers' vacant head-coaching position in January.
"That whole experience was great for me," Gase said. "It was a crazy two days. Anytime you get a chance to do something like that, it's a great experience."
Although San Francisco ultimately opted to hire Jim Tomsula to replace Jim Harbaugh, Gase isn't upset about how things worked out.
"I'm excited that I was able to come here," Gase said. "This is where I wanted to be. I feel like this is where I was meant to be, working with this group on offense, being with coach [John] Fox. So this has been a great spot for me."
Helping hand: With Fangio having served as 49ers defensive coordinator the past four seasons, Gase intends to pick his brain this week in advance of Sunday's game against San Francisco.
"Anytime you play a team that you have coaches on the staff that have been around that personnel, you are absolutely going to use that to your advantage," Gase said. "[But] I go to Vic a lot more than for just [the 49ers] because the knowledge he has of guys in the NFL is unbelievable, whether it be scheme or players."
Fangio has spent 28 seasons as an NFL coach, including 15 as a defensive coordinator with the Panthers (1995-98), Colts (1999-2001), Texans (2002-05) and 49ers (2011-14).
"I'm not sure I've been around someone who has as much experience in the NFL with the variety he has," Gase said. "When you have a person like that in your building you'd be crazy not to go to them and look for advice and look for ideas. Just having him around is constantly making us better on offense."
Health update: Receivers Eddie Royal (knee) and Marquess Wilson (foot), safety Antrel Rolle (knee) and defensive lineman Bruce Gaston (illness) did not practice Thursday. Wilson injured his foot on the final play of Wednesday's workout.
Tight end Zach Miller (rib) and outside linebacker Pernell McPhee (knee) were limited, while running back Ka'Deem Carey (concussion), tight end Martellus Bennett (rib) and right tackle Kyle Long (neck) practiced without restrictions.