One small step Tuesday felt like a giant leap for Bears rookie receiver Kevin White.
Although he only participated in the stretching portion of practice, White was thrilled to rejoin his teammates on the field for the first time since undergoing shin surgery this summer.
"It felt real good," said White, the seventh overall pick in this year's draft. "I haven't been out there since August. But it's good to be back, just progressing and taking it day-by-day. But definitely it was fun being out there with those guys."
The Bears officially opened White's 21-day practice window Tuesday, which gives them three weeks to decide whether to put him on their active roster or season-ending injured reserve.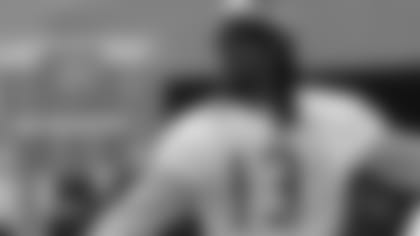 Wide receiver Kevin White participated in the stretching portion of practice on Tuesday.
"We're just still progressing as business as usual," said coach John Fox. "He's not ready to play this minute. But he's able to be out here and participate. We've got a three-week window. We'll evaluate that day-to-day."
White hopes to be able to play in a game this season, but he knows there are no guarantees.
"Yeah, there's a chance," he said. "I'm not closing the door on anything. I've just got to be smart with it. If I'm feeling good and I'm ready to go, then I guess we'll have to see. I would like for it to happen. If it doesn't happen, I've got to roll with the punches."
White has been on the road to recovery since sustaining a stress fracture in the lower part of his shin during OTA workouts in June. He suffered a setback while doing some light running in training camp in August and underwent surgery.
Fox has been impressed with how invested White has remained with the Bears during his long layoff.
"He's done a good job with that," Fox said. "He's been in meetings. He's a high football character guy. He wants to get better and progress. He's a true professional. He's done very well that way.
"Really his whole thing right now is to get well. He's progressing at that. He's right on schedule. It's not a lack of effort by any stretch. He wants to play football. He's a football player."
In characterizing where he is with his rehab, White said: "Not back to normal, not just yet. But it's definitely better than it was two weeks ago or than it was last week. It's getting stronger and I'm getting more comfortable with it. I guess that's all I can ask for."
White hopes to make major strides over the next three weeks.
"I want to get a lot of strength back in my quad," he said, "just get comfortable with running routes again, just being back out there, just getting accustomed back to the game, really just to be back playing with my guys."
White revealed that he's still experiencing a little pain and discomfort in his leg, "but it's not excruciating pain like it used to be."
Never having missed more than two weeks of football due to an injury, the 22-year-old said that sitting out so long as been "real tough" and "the hardest thing I'd had to go through thus far." With that said, he's happy the Bears did not place him on injured reserve.
"It was a big relief," White said, "just because there's a chance I can come back and be out there helping us get some victories."