Looking for a fresh start after suffering serious leg injuries in each of his first two NFL seasons, receiver Kevin White will switch jersey numbers from 13 to 11.
"I was never a big fan of 13," White told ChicagoBears.com. "It hasn't been my best number. So it's time to turn the page and get back to my old ways when I was 11 back in college [at West Virginia]. Mentally, it's time for a change and a new chapter."
Receiver Josh Bellamy will accommodate White by switching from 11 to 15, while receiver Markus Wheaton will give up the No. 10 jersey he was initially provided when he signed with the Bears last month so that first-round pick Mitch Trubisky can wear 10, his number at North Carolina.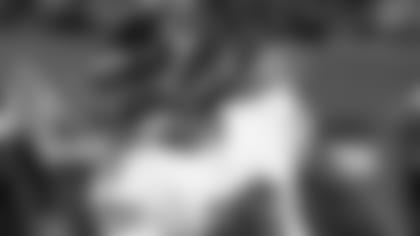 Bears wide receiver Kevin White will switch jersey numbers from 13 to 11.


Wheaton will don No. 12, while receiver Kendall Wright will get No. 13, the number he wore with the Titans. Receiver Daniel Braverman has also switched numbers, ditching 83 for 18.
White will wear No. 11 in due in part to his great admiration for Cardinals receiver Larry Fitzgerald, a player that White has idolized since high school. The two met for the first time in 2015 when White was preparing for the NFL Combine and remain in frequent contact.
"The best advice he's given me is 'respect all; fear none,'" White said. "He has a big influence on me—following Christianity, eating right, taking care of my body and just preparing every day.
"You want to be the person on a team where guys say, 'Wow, Kevin is doing everything right.' Larry has been in the league for 13 years and he still takes notes. He still does the little things and it's the little things that matter. So big ups to Larry. That's my guy I look towards."
White has missed 28 of 32 games since being selected by the Bears with the seventh pick in the first round of the 2015 draft. He sat out his entire rookie season with a stress fracture in his left leg and then broke his fibula in the same leg in the fourth game last year, eventually undergoing surgery for the second straight season.
As he participates in the Bears offseason program, White is preparing to return not only with a different number but a new attitude.
"Mentally and physically I feel a lot better," he said. "It's a fresh start and a clean slate for me."