INDIANAPOLIS – Bears general manager Ryan Pace reiterated at the NFL Combine that receiver Kevin White will be "full speed for the offseason program."
The seventh overall pick in last year's draft missed his entire rookie season with a stress fracture in his shin that he suffered during an OTA practice last June.
"He's progressing well," Pace said. "Really excited about him and I know he's got a lot of confidence and a big smile on his face and ready to show everybody what he can do."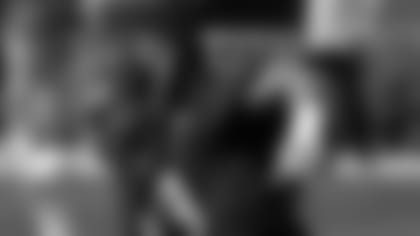 WR Kevin White caught 109 passes for 1,447 yards for West Virginia in 2014.


White showed explosiveness and playmaking ability last spring before getting hurt. When he finally returned to the practice field in early December, quarterback Jay Cutler called it "a breath of fresh air."
"He's got some burst to him," Cutler said at the time. "You can see the talent is definitely there."
The Bears are eager to see a healthy White back on the field in 2016. The 6-3, 217-pounder blossomed at West Virginia in 2014, catching 109 passes for 1,447 yards and 10 touchdowns. He opened the season with a school-record seven straight 100-yard games and set another West Virginia mark for most receptions in a game with 16 against Texas.
"He was a guy that we didn't get a chance to look at much except early in the offseason a year ago," said coach John Fox. "He's rehabbed, been cleared medically. He's a guy I think that's got good size, quickness, explosion, big hands. I think yards-after-catch can be a positive. But at the end of the day he has to go prove it. It's going to take some time. We've got time and he's healthy."
New assistant: White and the rest of the Bears receivers will be working with a new position coach this year. Curtis Johnson replaces Mike Groh, who left after three seasons in Chicago to join the Los Angeles Rams as receivers coach/passing game coordinator.
Johnson served as Tulane's head coach the past four seasons after spending 28 years coaching receivers at the NFL, collegiate and high school levels. Prior to his stint at Tulane, he was receivers coach with the New Orleans Saints from 2006-11.
"He's an outstanding grass coach," Fox said. "He's a guy I'm very familiar with because of time competing against New Orleans when I was at Carolina in the NFC South. I think he's one of the better receiver coaches out there. And Mike Groh had an opportunity to grow in his career, moving to [Los Angeles]. Curtis was available and I think we did very well in getting him."
Tough decision: Pace was asked whether White missing his rookie season would make the Bears more hesitant to draft a player recovering from a serious injury such as Notre Dame linebacker Jaylon Smith.
ESPN's Mel Kiper Jr. is predicting that the Bears will spend their first-round pick on Smith, who tore the ACL and LCL in his left knee Jan. 1 in the Fiesta Bowl against Ohio State.
"It's a good question," Pace said. "First of all, the medical tests at the Combine are significant. That's huge. We have to determine, 'Hey, this guy is going to be an elite, special player.' But if it means that he's going to miss a little time early on, then as a club you've got to make that decision. I think you saw last year with [Rams running back Todd] Gurley, sometimes those decisions are worth it."
More ammunition: The Bears have nine picks in the draft, one in each of the seven rounds and two additional sixth-round choices they acquired in trades with the Carolina Panthers and New England Patriots in exchange for Jared Allen and Jonathan Bostic, respectively.
"It's awesome," Pace said. "Last year we only had six. So now we have some flexibility to move around within the draft, not just acquire more players but possibly move up or move back. It just gives us more flexibility in the draft and that's exciting. You have ammunition now."