After missing 28 of 32 games over his first two NFL seasons due to two serious leg injuries, receiver Kevin White will hit the ground running Thursday when the Bears conduct their first training camp practice.
"He's ready to go," said general manager Ryan Pace. "He's had a great summer, a great offseason, so he's ready to go. You can just feel his confidence gaining, knowledge of the offense and just being comfortable with his body. He's pretty much unleashed."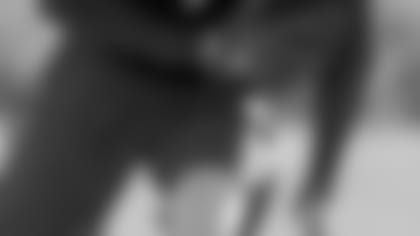 Receiver Kevin White is expected to practice without restrictions this summer in training camp.


Pace doesn't anticipate that White will need any days off to rest during camp, telling reporters Wednesday in Bourbonnais "we expect him to be rolling."
Selected by the Bears with the seventh pick in the 2015 draft, White missed his entire rookie season with a stress fracture in his left leg and then broke his fibula in the same leg in the fourth game last year, eventually undergoing surgery for the second straight year.
White has shown promise when healthy; his 19 receptions last season were the most ever by a Bears player in his first four NFL games.
Asked what he hopes to see from White on the practice field, Pace said: "As he's getting back into it, just him playing faster and I think that comes with confidence. We saw that through the OTAs and I think we're going to continue to see that."
On the Mark: The plan this year is to groom Mitch Trubisky to be the Bears' quarterback of the future. But the second pick in the draft will begin training camp third on the depth chart behind starter Mike Glennon and veteran backup Mark Sanchez.
"Sanchez is the two as we enter camp," Pace said. "But there's competition there, and we'll do things to create competition, and those guys understand it. It's healthy competition."
Sanchez signed with the Bears in March after spending his first eight seasons with the Jets (2009-13), Eagles (2014-15) and Cowboys (2016). He has appeared in 77 games with 72 starts, throwing for 15,219 yards with 86 touchdowns, 86 interceptions and a 73.9 passer rating.
"Mark's been great from the moment that he got here," Glennon said. "He's been already a big help to me. Talk about a guy that's kind of seen it all in the NFL—the good, the bad, everything in between. I know I'm very glad that he's here, to have him for advice, to get his point of view on things, and just kind of the sense of humor and personality he brings to our quarterback room can be refreshing. Especially when you're in camp for five weeks or something like that, sometimes it's nice to have that type of guy that can make a joke and break things up a little."
A lot to prove: Defensive end Akiem Hicks told reporters Wednesday that he and his teammates are eager and determined to rebound from last year's disappointing 3-13 season.
"I sense a lot of guys champing at the bit," Hicks said. "Everybody knows we've got a lot to prove, as a team and individually, and I feel like everyone knows it's put up or shut up. It's intense, put it that way."
Inside linebacker Jerrell Freeman anticipates a highly competitive training camp given what transpired last season.
"Guys understand three wins is not acceptable—not acceptable to us, to the fans," Freeman said. "Fans definitely deserve better than that. I think everybody's on the same page as far as culture and wanting to bring winning back to Chicago."
Life saver: Three days later, there was still a buzz about Freeman saving a choking man's life by performing the Heimlich maneuver Sunday in a Texas airport.
"Making tackles and saving lives," Hicks said while sitting next to his teammate.
Freeman was able to dislodge a piece of brisket that was stuck in the throat of a man named Marcus Ryan, who remains as grateful to the Bears linebacker as you would expect.
"It was pretty simple, like one-plus-one," Freeman said. "Somebody was in need and I was there. If I wasn't there, I'm sure somebody else would have done it, I would hope. I did help a guy out. We were able to talk back and forth. He's still thanking me."