Although rookie receiver Kevin White remains sidelined with a shin injury, offensive coordinator Adam Gase isn't worried that the first-round draft pick will fall too far behind his teammates.
"His character won't allow it," Gase said Wednesday at training camp. "He studies, he's constantly asking questions in the meetings, [receivers] coach [Mike] Groh does a great job spending time with him.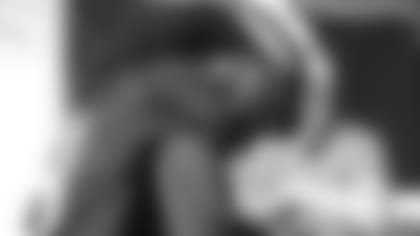 Kevin White at training camp.
"It's just whenever we have a chance to get him out here we'll see where he is on the field. I feel confident that right now on paper he can tell you everything he's supposed to do. It's just when you get out here and coverages start changing and things start happening fast, it's, 'Where are we at at this point?'"
White, who starred at West Virginia before being selected by the Bears with the seventh overall pick in the draft, has not practiced since suffering the injury during OTA workouts in June.
"He's got a shin," said coach John Fox. "You can call it splints, call it whatever you want. You see him out here. It's not like we're covering up some awful injury where he's in a cast, a boot and crutches.
"We've got a plan for him. We've wanted to rest it. It was done in OTAs. He practiced. He did a great job. He's a heck of a fine young player. It flared up. We shut him down for six weeks, now going on seven, and we're easing him back. He's [champing] at the bit. He's mad at me right now because I won't let him practice, but we're going to be smart. He's going to be a viable part of our football team.
"He's doing things with the trainers and we're going to ramp it up as we go. I can't predict the future. But it's what it is. It flared up. We're trying to let it settle down and we'll see where it goes."
Quarterback Jay Cutler is eager to get White back on the field. The rookie was among a handful of Bears players who spent a few days with Cutler in Nashville preparing for training camp.
"He's going to be out here when he gets out here," Cutler said. "He came down to Nashville and we talked a lot down there and walked through some things. I know he's doing everything he can to get out here. He's meeting with [Groh], he's doing some things in the meeting rooms. So whenever he's out here, we'll make sure that he's where he needs to be."