It isn't easy for offensive linemen to impress in non-padded practices, especially one like Bears rookie Cody Whitehair who's eager to make a positive first impression.
Knowing that contact is a no-no during the offseason, the second-round draft pick has had to resist his primal instincts and focus on other aspects of the game.
"You've just got to show that you're a technically-sound guy," Whitehair said after a recent practice. "That's what a lot of coaches look at is if you're technically sound. That's what we're trying to prove out here."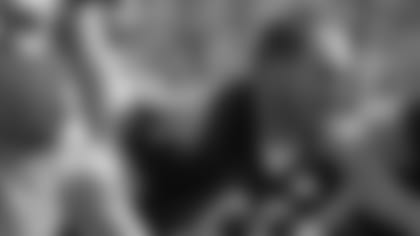 Bears rookie offensive lineman Cody Whitehair


Whitehair was known for his technique at Kansas State, where he was named first-team All-Big 12 last season as a senior. But that doesn't mean he can't get even better.
"It's huge and that's what we're doing out here," Whitehair said. "It's not so much driving somebody to the ground or taking anybody to the ground physically; it's more of training your feet and hands to be in the right position."
The strength Whitehair possesses in his hands is key to his success. In a draft capsule on NFL.com, he's described as an "extremely sticky blocker" who "combines hand strength and balance to snatch and control a defender until the whistle blows."
"That's just kind of something that comes with being an offensive lineman, is having good hands," Whitehair said. "I took a lot of pride in that my junior and senior year and just really tried to work on my hand strength and getting my hands in the right position. I think it plays a vital part in being an offensive lineman."
Whitehair also appealed to the Bears in the draft because of his athleticism, versatility and durability. The 6-4, 301-pounder is capable of pulling and blocking at the second level.
Whitehair started 52 of 53 games over four seasons at Kansas State, including a streak of 41 straight to end his career. After splitting time between left guard and right tackle his first two seasons, he started at left tackle his final two years.
The Kansas native also possesses the football character the Bears covet in their players.
"We drafted a very high character guy that has played a lot of football," said offensive coordinator Dowell Loggains. "He's tough. He's the type of player that coach [John] Fox wants. When you talk about a throwback, old-school guy, that's Cody."
Having worked out alongside Bears veterans the past two weeks, Whitehair understands that he's "not in Kansas anymore."
"Everybody is big and everybody is strong and everybody is fast," he said. "Whereas in college you go against a practice squad guy that might not be as talented, here everybody is good and everybody is big and everybody is fast. So that's probably the biggest challenge."