Bill Snyder has been coaching football players in Manhattan, Kansas, for a long time. The head coach of the Kansas State Wildcats has been in charge of his program for 24 years, seeing hundreds of players come and go in that time. So when Snyder sings the praises of a player and says he's special, the word goes a long way.
Recently, Snyder was asked about offensive lineman Cody Whitehair. Over the past four years, Whitehair started 51 games for Kansas State, at a variety of positions. He played right tackle and left guard as a freshman and sophomore and left tackle as a junior and senior.
"He's been through it all and he's been successful here," Snyder told the Topeka Capital-Journal.
On Friday night, the Bears selected Whitehair in the second round of the NFL Draft, with the 56th overall selection. One of the top offensive line prospects in the class, one aspect of Whitehair's potential that was especially intriguing was his versatility. He's expected to play guard with the Bears and actually prefers that position. But he's willing to line up anywhere.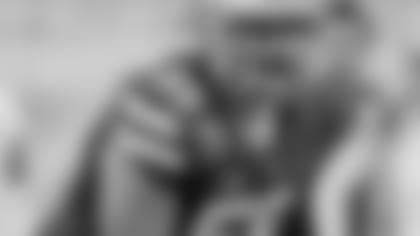 Bears selected Cody Whitehair in the second round of the NFL Draft, with the 56th overall selection.


"I'm comfortable at any of those positions," Whitehair said. "I'm a team player and wherever the team needs me to play, I can make the transition and play up to the level I need to play at."
Whitehair—who is listed at 6-foot-4, 301 pounds—has terrific short-area burst, allowing him to make contact with defenders quickly in order to open running lanes. He ran 7.32 seconds in the three-cone drill at the Combine in February, the third-fastest time among offensive linemen. That burst also shows in his terrific agility, as he can move side to side in pass protection, helping keep pockets clean.
The fact that he doesn't have a defined spot on the field quite yet doesn't matter to Whitehair or the Bears. General manager Ryan Pace likes to talk about creating competition all across the depth chart, and he's certainly done that this offseason on the offensive line. Since the final game of the 2015 season, Pace has signed in Ted Larsen, Manny Ramirez and Bobby Massie. Add that to a talented line that already includes three-time Pro Bowler Kyle Long, a player Whitehair will learn from in the now crowded offensive line room at Halas Hall.
"I know he's a great player," Whitehair said of Long. "I know he's a Pro Bowl kind of guy. He's going to be a great player, he's going to be a great teacher for me. I'm looking forward to playing with him."
Whitehair learned from one of the best in Snyder, learning how to play a variety of positions. Now he takes those talents to Chicago, where he will be expected to bring his athleticism and competitive streak to a new-look offensive line.