With the Bears' offseason program only entering its second week, the surroundings at Halas Hall are still a bit unfamiliar to recent free-agent acquisition D.J. Williams.
But after the most difficult year of his NFL career in 2012, the change of scenery figures to reinvigorate the veteran linebacker. Released by the Broncos March 20 after nine seasons in Denver, Williams signed a one-year contract with the Bears five days later.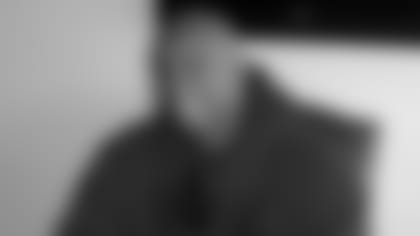 D.J. Williams signed with the Bears after spending his first nine NFL seasons in Denver.
"I would have loved to retire as a Bronco," Williams said. "But I still feel like I've got a few years of football left in me and I'm just thankful that the Bears are giving me an opportunity to perform."

Williams, 30, was selected by the Broncos with the 17th pick in the first round of the 2004 draft out of Miami. A full-time starter his first eight seasons, he appeared in only seven games with one start last year due to off-the-field issues. Williams was suspended six games for violating the NFL's performing enhancing drug policy and three contests following his second DUI arrest.

"It was very difficult," Williams said. "Even when I came back-I came back in amazing shape-our team was on a roll and they had good chemistry, so it was kind of hard for me to really get on the field. But I'm a team player, so I filled in when needed.

"It was frustrating. It also humbles you and shows you how much you really do love the game and how important it is to you."

Williams is excited about his fresh start with the Bears, even if it means stepping into the middle linebacker position that was manned by future Hall of Famer Brian Urlacher the last 13 seasons.

"He was a great player," Williams said. "I watched him as a young player in college and was able to be in the league with him. I'm not trying to fill his shoes, even though I probably will be playing his position. Our games are different, so I'm not trying to be him. I'm just trying to be me."

For Williams, the key to dealing with the pressure that comes with following a legend is simple.

"Perform; that's it," he said. "If you go out there and perform and do well and help your team win, fans will love you. If you go out there and stink it up, you're going to get that type of criticism."

Although he won't try to fill Urlacher's shoes, Williams is honored to join a Bears middle linebacker legacy that also includes Hall of Famers Bill George, Dick Butkus and Mike Singletary.

"I feel privileged," Williams said. "To come here and be part of a team that loves defense in a city that loves defense, I'm just grateful and I love the opportunity. I'm excited about it."

Williams produced consistently in Denver while appearing in 127 games with 115 starts. Playing both inside and outside linebacker with the Broncos, the 6-1, 242-pounder registered 816 tackles, 20.5 sacks, two interceptions, 13 forced fumbles and seven fumble recoveries.

Asked to describe himself, Williams said: "I'm a huge team player. I love my teammates. I've always been like that with football. I love to play and I love to joke around. Whether the joke's on me or somebody else, I find humor in it. And I'm a hard worker."