The shortest player on the Bears roster made their longest play in Friday night's 34-28 preseason-opening win over the Philadelphia Eagles at Soldier Field.
Trailing 28-17 midway through the third quarter, speedy 5-8 receiver Chris Williams hauled in a 73-yard touchdown pass from Jimmy Clausen. Williams beat press coverage from cornerback Jaylen Watkins off the line and raced down the right sideline, juggling the ball before securing it.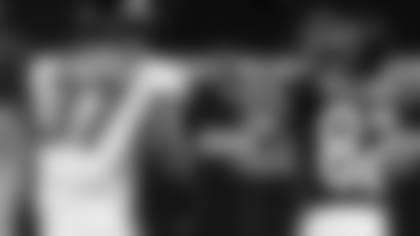 Chris Williams hauls in a 73-yard pass during the third quarter.
"It was awesome," said Williams, a former CFL star who was signed by the Bears late last season off the Saints' practice squad. "We got what we wanted and made the right play."
The touchdown no doubt will help Williams as he battles for a receiver position, but it was also bittersweet because he injured his hamstring on the play and had to exit the game.
"It's disappointing that I didn't get to finish," Williams said. "I was trying to come into a groove and I felt like I was playing pretty well, so it was definitely a little disappointing."
Passing fancy: Jay Cutler wasn't the only Bears quarterback who performed well in Friday night's win. Locked in a battle for the backup position, Jordan Palmer and Clausen both excelled.
Replacing Cutler at the end of the first quarter, Palmer completed 8 of 11 passes for 104 yards with one touchdown, one interception and a 94.5 passer rating. Clausen opened the second half, connecting on 7 of 13 passes for 150 yards with two TDs and a game-high 134.6 rating.
"I thought all the quarterbacks along the line had some adversity, and they were able to come back and make it a positive night in some fashion," said coach Marc Trestman.
Seeing red: The Bears drew 14 penalties for 103 yards, something that Trestman plans to address when the team returns to the practice field in Bourbonnais Sunday afternoon.
"The red flag tonight was the yellow flags," Trestman said. "There were too many penalties. We've got to really work hard to assess why the penalties occurred. We need to make more of an emphasis in practice over the next week."
Nothing special: The Bears struggled on special teams. The unit gave up a 102-yard kickoff return touchdown, allowed the Eagles to block Robbie Gould's 41-yard field goal attempt and committed an illegal-touching penalty that nullified Tress Way's 63-yard punt.
"I think you could say it was errors," Trestman said. "To be specific, if you asked me Sunday I could tell you if they were mental errors. A lot of times on kickoffs it could be just one guy making errors by losing the edge or losing contain and that connects to the 10 other guys. There are a lot of things special teams-wise that we could look at and learn from."
Roster notes: Bears players who sat out Friday night's game included safety Craig Steltz, cornerback Tim Jennings, nickel back Isaiah Frey, safety Chris Conte, guard/tackle Eben Britton, tackle Jordan Mills, defensive end Jared Allen and guard Kyle Long.
With Mills (foot) and Long (ankle) nursing minor injuries, Brian de la Puente started at right guard and Michael Ola opened at right tackle. De la Puente exited in the second quarter after suffering a knee injury.
Tight end Martellus Bennett also did not play due to the suspension he received last Tuesday after getting into an altercation with rookie cornerback Kyle Fuller during Monday's practice.