Although the Bears are a long way from anointing a starting middle linebacker, it's good news that veteran D.J. Williams is healthy enough to be considered the frontrunner for the position.
The 31-year-old joined the Bears last year after spending his first nine NFL seasons with the Broncos. After missing the entire preseason with a calf injury, Williams rebounded to perform well as the starting middle linebacker early in the year. But he was lost for the season with a torn pectoral muscle in a Week 6 win over the Giants.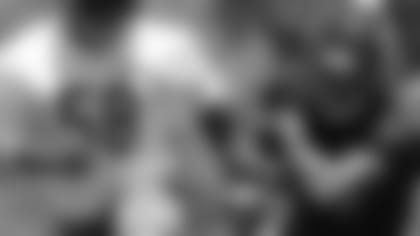 Linebacker D.J. Williams chases receiver Brandon Marshall during a recent practice at Halas Hall.
"I'm just hoping he can be 100 percent," coach Marc Trestman said Tuesday during minicamp. "He's had an offseason to work. He's been out there competing hard, and when he's playing well, it's visibly noticeable in terms of what we can do with the middle linebacker position. But we have competition there. He's certainly the lead dog there, but we do have competition."
Williams is being pushed most notably by 2013 second-round pick Jon Bostic, who registered 75.5 tackles, 4.5 tackles-for-loss, one sack, one interception and one forced fumble while appearing in all 16 games with nine starts.
"[Bostic] is working at all three different [linebacker] positions and certainly the 'Mike' position," Trestman said. "He's competing at a really high level and has worked really hard and is right in the mix, no doubt about it.
"To write off anybody right now would be a mistake. We're not even close … We've got to start somewhere. We've got a lot of competition on this football team. If you had to pick our 53 right now and our 46, it'd be very difficult to do. The competition is deep."
On the shelf: After breaking his foot in last year's season finale against the Packers, right tackle Jordan Mills recovered in time to participate in OTA workouts. But the Bears are resting the 2013 fifth-round pick from Louisiana Tech during minicamp.
"He had a really good OTAs and we just want to be smart on this foot of his and make sure it continues to heal properly, and it is," Trestman said. "We just wanted to give him some time away."
With left guard Matt Slauson also sitting out minicamp while he recovers from a shoulder injury, reserves such as Eben Britton, Taylor Boggs and Michael Ola are getting first-team reps.
"It's a great opportunity for them," said offensive coordinator Aaron Kromer. "It gives the backups all the chances to play against guys they don't [normally] play against. … It helps them grow as a football player because they're not going against the same old move all day."
Listen up: Practicing inside the Walter Payton Center Tuesday, the Bears pumped in crowd noise to simulate the conditions they'll face while playing six of their first nine games on the road.
"Everybody knows what we're up against early in the season," Trestman said. "We have to go on the road early. We have to play in the noise early. So we tried to get some of that in today, just to experience everything we would experience during the course of the season."
And finally: Safety Craig Steltz remains sidelined with what Trestman described as a "leg-related" issue.
"He's still in a recovery mode from the work he had this offseason," Trestman said. "It's just day-to-day there. He appears to be healing."
Safety Chris Conte, defensive tackle Will Sutton and linebacker Khaseem Greene were excused from Tuesday's practice due to personal reasons.