Several injured Bears players returned to practice Monday, but none of them faced a longer or more arduous road to recovery than receiver Marquess Wilson.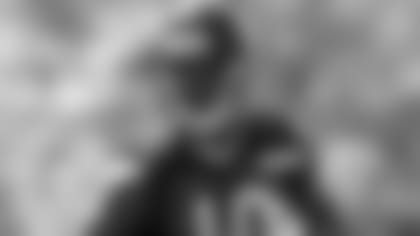 Bears receiver Marquess Wilson felt grateful to return to practice Monday for the first time since June.


The 2013 seventh-round pick missed the final five games last season with a broken left foot, recovered from the injury, and then fractured the same foot during minicamp in June.
"It's a blessing to be back on the field," Wilson said. "I had to put my faith in God and just trust that he had my back. Talking to all my teammates, my mom, my family, just got me through it."
Wilson opened the season on the physically unable to perform list, making him ineligible to play in the first six games. With him returning to practice Monday, the Bears now have 21 days to decide whether to place the fourth-year pro on their active roster.
"During the bye week, he was with the trainers for most of that," said coach John Fox. "He had a good window there and they elected to put him out there today and I thought he looked good."
Wilson has appeared in 28 games with 13 starts over three seasons with the Bears, catching 47 passes for 617 yards and two touchdowns. He's grateful that the Bears stuck with him while he was injured and intends to repay them for their loyalty.
"It means a lot," Wilson said. "It shows that they have trust in me and I greatly appreciate it. I'm just looking forward to being back on the field and giving it my all."
Better than expected: Nose tackle Eddie Goldman, who returned to practice Monday for the first time since hurting his ankle in a Week 2 loss to the Eagles, initially feared that he had suffered a more serious injury.
"I thought it was worse than what it was," Goldman said. "I didn't want the guy—I don't know who it was examining me—to touch me when I was down on the field. I was kind of disturbed."
Goldman's status for Sunday's game in Tampa is unclear. While it appears that he did a good job of not adding extra pounds during his absence—Goldman told reporters that he ate a lot of vegetables—the second-year pro still must get back into football shape.
"There's nothing really like practicing and playing football," Fox said. "You try to simulate it whether it's in the offseason conditioning program, all the different things we do to keep guys in shape, keep their weight down, those types of things. But until you really get out there and practice, they find there are muscles they didn't really even know about that first practice."
Looking forward: The Bears have blown fourth-quarter leads in three of their six losses this season, but Fox isn't wasting any time lamenting what might have been.
"You can spent a lot of time looking in the rearview mirror driving your car," he said. "If you spend too much time looking back, then you wreck. So our focus is in front of us now. A couple of those games go the other way, we're 4-4 instead of 2-6. It sounds a little better, no doubt. But we can't change that. We are what we are. Right now we can be 10-6 or 2-14; that's the reality math-wise. Hopefully we can move more toward the first one."
Schedule notes: Seven of the Bears' final eight games are against NFC opponents, including three versus NFC North rivals the final four weeks of the season. ... They will play two straight road games for the first time this year the next two weeks against the Buccaneers and Giants, followed by two consecutive home contests for the first time this season versus the Titans and 49ers. ... Beginning Nov. 27, the Bears will host four of five games at Soldier Field before closing the season on New Year's Day in Minnesota.