Receivers with Marquess Wilson's talent and production typically don't last very long in the NFL Draft. But you won't hear the Bears rookie complain about slipping into the seventh round.
Wilson was thrilled to be picked in any round after his Washington State career ended prematurely and abruptly. After catching 189 passes for a school-record 3,207 yards and 23 touchdowns in three seasons, he left the team last November after accusing head coach Mike Leach of abuse.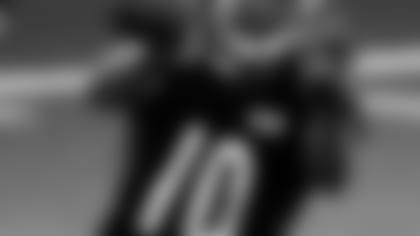 Marquess Wilson catches a pass during this weekend's Bears rookie minicamp.
"I was just happy I got drafted," Wilson said at Bears rookie minicamp. "I was just happy that I got a second opportunity, another chance to go out here and play football again. I just want to take full advantage of that opportunity and work hard out here."

Wilson blossomed as a sophomore in 2011, establishing career highs with 82 receptions for 1,388 yards and 12 touchdowns. But then last year the lanky 6-4, 184-pounder walked out of a practice, earning a one-game suspension, and never returned to the team.

The Bears did what general manager Phil Emery has described as "a tremendous amount of work" researching the situation as well as the 20-year-old's character, and knew there was little risk spending the 236th overall pick on him.

"We felt at that point in the draft that a person of this kind of talent deserved a second chance," Emery said April 27 after selecting Wilson. "His biggest sin is he walked out. We felt very comfortable that this was a good person who made an immature decision. He's owned up to that decision."

Asked what he told the Bears about the incident, Wilson said: "That it was a mistake on my part the way I handled everything and I'm not going to do that. I'm not going to harm this franchise and just try to get their trust, tell them what I did and what happened, and just tell them the truth."

Wilson has made a positive first impression with the Bears during their rookie minicamp.

"He's been great," said coach Marc Trestman. "He started at zero here with everything and we've talked it through and we know all the issues, which are very minimal. He's a young guy and we're evaluating him here and continue to try to help him grow as a person as well as a player."

After struggling a bit in the first minicamp practice Friday, Wilson showed improvement Saturday.

"He was better today than he was yesterday," Trestman said. "He was a little bit leg weary I think from the travel. I thought he stepped up today and was a little more involved and had his feet underneath him, had a little more balance, and you could see his movement and his skill level."

With one year of college eligibility remaining, Wilson could have transferred to another school. But he didn't want to sit out a year and therefore entered the NFL Draft. Despite playing in only nine games last season, he still led Washington State with 52 catches for 813 yards and five TDs.

Now that he's practicing for the first time as a professional this weekend, Wilson is eager to show the Bears that he belongs in the NFL.

"We're excited to be out here as rookies, trying to show what we can do and hopefully earn the respect of our coaches and our teammates and hopefully make this 53-man roster," Wilson said. "We're all here to prove a point and take full advantage of this opportunity we've got at hand."

Wilson understands that reserve receivers are almost always expected to contribute on special teams, so he intends to work on that aspect of his game.

"I didn't really do it in college, but coming into the league as a rookie that's one way to get on the team," Wilson said. "Special teams is a big part of it and I'm fully capable and willing to do that. I want to do anything I can to help out the team."

After rookie minicamp concludes with a third and final practice Sunday, Wilson will be right back on the field with Bears veterans Monday for the first of 10 OTA workouts.

"It'll be fun because you get to work out and train with the vets and pick their brains a little bit and see what they do and how they run their routes," Wilson said. "It'll be great to learn from the vets."