Bears players cleaned out their lockers and dispersed Monday, one day after concluding the 2015 season with a 6-10 record following a loss to the Detroit Lions.
But despite a second straight season with double-digit losses, there's optimism at Halas Hall with coach John Fox and general manager Ryan Pace instilling a new mentality.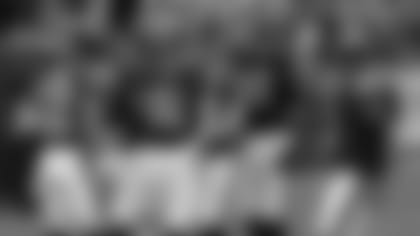 The Bears were in virtually every game this season, losing six contests by a combined 21 points, including five by four points or less.


"It's weird to say that it's establishing a winning culture around here because the record doesn't say that," said tight end Zach Miller. "But the feeling around here is different. I can feel the winning culture, the foundation being laid as far as from top to bottom—management and roster-wise. There's a special feeling about this group and this team and where it's going."
Miller is certain that better days are ahead—just as Fox vowed after Sunday's season-ending loss to the Lions—and that the Bears are headed in the right direction.
"I haven't been around a team or a group of coaches, a staff similar to this as far as everything they do and their vision of winning," Miller said. "It's exciting."
Although the Bears improved only one game in the standings from last season to this season, there seems to be a night-and-day difference from a year ago.
"I think the culture is great," said running back Matt Forte. "Coach Fox along with the rest of the coaches have made a great environment to be professional football players.
"When you're building a house, you've got to start with a solid foundation or it's going to fall. This team has a great foundation right now and it just needs to be built up around the outside in different spots. Once that happens, I think this team will turn the tide."
In two previous stops as an NFL head coach, Fox quickly turned also-rans into championship contenders. He inherited a 1-15 Panthers team in 2002 and led them to the Super Bowl in his second season. He took over a 4-12 Broncos team in 2011 and guided them to four straight division titles and one Super Bowl appearance.
"This new regime, it just seems like a different mindset," said tackle Jermon Bushrod. "I think they are going to build on that. You know coach Fox and his track record with what he's been able to do on the last two teams he's been on. If history repeats itself, we have a shot."
The Bears were plagued by injuries this season. First-round pick Kevin White missed the entire year due to a stress fracture in his shin, while 13 others landed on injured reserve, including receivers Alshon Jeffery and Marquess Wilson, tight end Martellus Bennett, running back Jacquizz Rodgers, safeties Antrel Rolle and Ryan Mundy, defensive linemen Ego Ferguson and Eddie Goldman, and center Will Montgomery.
Rolle won a Super Bowl with the Giants in 2011 but not before playing for Cardinals teams that went 5-11 in each of his first two NFL seasons in 2005-06.
"When you find teams that have losing seasons as we've had, normally there's a lot of chatter in the locker room, normally there's a lot of finger-pointing," Rolle said.
"There are a lot of things that can take place that you really don't want to take place, and we haven't seen any of that here. That might not be a huge step from the outside looking in. But from within, it's a huge step and it tells a lot about the character of guys that you have here. We win as a team, we lose as a team."
The Bears were in virtually every game this season, losing six contests by a combined 21 points, including five by four points or less.
"We understand that we've lost some pretty close games," Rolle said. "Our record could have easily been 12-4, 11-5. But we were on the losing end of the stick. So there's a lot of room for improvement. But I think we have the guys here, the core group of guys who are willing to make that work and willing to do the extras and the sacrifices of whatever we need in order to have this a winning organization again."