Working with Kyle Long to prepare him for the Senior Bowl, veteran NFL offensive line coach Tony Wise saw some unique traits in the Bears' first-round draft pick.
"I have not coached anybody with that height and that athletic ability," said Wise, who spent about a week in January tutoring the 6-6, 313-pounder at a Los Angeles gym.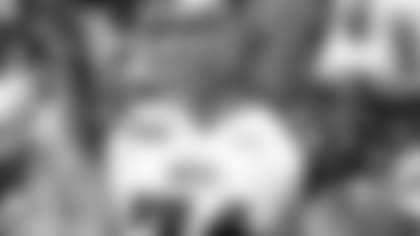 Offensive lineman Kyle Long played for the North squad in the Senior Bowl.
Wise doesn't make that type of statement every day, not after coaching offensive linemen for 18 years in the NFL, including six seasons with the Bears under Dave Wannstedt from 1993-98.

When Hall of Fame defensive end Howie Long was looking for an expert to work with his son, he asked Fox Sports cohort Jimmy Johnson for a recommendation. Johnson suggested Wise, one of his long-time assistants at the University of Miami and with the Dallas Cowboys.

"He's great," Kyle Long said. "He's old school. He's very knowledgeable in the game of football. He was quick to point out that I was very raw, but I made strides from a football standpoint with him in the days we worked together that were really unmatched. It was a tremendous learning experience for me."

Never having seen Long play live or on tape, Wise contacted Oregon offensive line coach Steve Greatwood to learn more about the 24-year-old former baseball player.

During their time together, Wise ran Long through pass protection drills and talked to him at length about what to expect at the Senior Bowl and the NFL Scouting Combine.

"I was thoroughly impressed with his athleticism," Wise said. "When I first met him, he was every bit as big as people had told me he was. That was my first impression. Watching him work out, my impression was how good of an athlete he was for a big man."

Long joins the Bears after playing only one season at the Division I level. He originally went to Florida State on a baseball scholarship before resuming his football career in 2010 at Saddleback Community College in California, playing there two seasons before transferring to Oregon in 2012.

"He is raw, but he's such a good athlete that I would think he's going to pick up on things pretty quickly," Wise said.

Wise was also impressed with Long's maturity.

"I didn't realize how much older he was," Wise said. "I had just got done coaching here at Pitt, so I got this experience with these seniors. He was much more mature and obviously he's older. I started to figure that out as I went along, but his maturity is the thing that stood out."

While Long will begin his Bears career at guard, Wise said he would line him up at left tackle from Day 1.

"You're always looking for a guy with height, a guy with reach and a guy with the athletic ability where he can turn on the edge at the tackle position," Wise explained. "As I look at it, he's got all those attributes. The other thing I'd throw in is that anybody can play guard.

"He's got real strong hands and the ability to strike with his hands. He also has reach and change of direction, so pass protection should come a little easier for him."