The Bears' inability to stop the run remained a main topic of conversation Monday, one day after they yielded a season-high 258 yards on the ground in a 42-21 loss to the Rams.
St. Louis rookies Benny Cunningham (13 carries for 109 yards), Zac Stacy (12-87) and Tavon Austin (1-65) all rushed for touchdowns and combined to average 10 yards per attempt.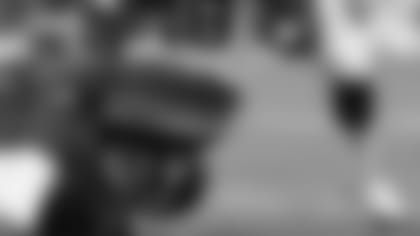 Vikings star Adrian Peterson rushed for 100 yards on 26 carries in a 31-30 loss to the Bears earlier this season at Soldier Field.
"We're going to continue to work at it," said coach Marc Trestman. "There are a lot of teams working in the same environment in the league. We're not going to give up on it. We're going to continue to press the issue. We're going to work harder on it this week and try to get better. We certainly have to. We know what we're up against this week."
What the Bears are up against this week is Vikings star Adrian Peterson, the reigning NFL MVP and arguably the best running back on the planet. In 11 career games against the Bears, Peterson has rushed for an average of 108 yards and 14 total touchdowns.
After being held to 85, 94, 51 and 39 yards in four meetings from 2009-11, Peterson has gained 108, 154 and 100 yards in his last three games against the Bears. Last Dec. 9 in Minnesota, he ran for a team-record 104 yards in the first quarter, including a 51-yard run on the first play from scrimmage.
After allowing an average of 102 yards in the first six games this season, the Bears run defense has yielded an average of 197 yards in the last five contests. The unit has been decimated by injuries, losing cornerback Charles Tillman, linebackers Lance Briggs and D.J. Williams, and defensive tackles Henry Melton, Nate Collins and Stephen Paea.
"I've watched tape from practice where we fit the run exactly against the runs we're going to see," Trestman said. "[Against the Rams], I saw us fit the runs exactly the way we saw them in practice and then I saw other times that we didn't, and that's the accountability side of it.
"We've got to do a better job. That starts with us [coaches], but it's also on our players to make sure they're doing exactly what we're asking them to do. We've got some young guys, some guys working at newer positions. But that's everybody. All 11 guys have to do it.
"There has been inconsistency in fitting the runs. They're runs that we have practiced. They show up in games. When we fit them properly, it's a two-to-three-yard gain. When we don't fit it right, it becomes a bigger gain and we have not been able to do it on a consistent basis."
The Bears rank last in the NFL in run defense, allowing 145.2 yards per game. They are on pace to permit 2,323 yards, which would be the second most in franchise history behind the 1973 team (2,509). They have allowed eight runs of at least 30 yards after yielding only two all of last season.
"A lot of times it's more about fits than getting blocked, and that's where you get the big gains, you get the explosive runs, and we've had too many of them," Trestman said. "There's nothing that we haven't practiced. I think our guys know that. Our guys have been great at accepting accountability within that framework. We've just got to continue to work at it and try to get better."