Back with the Bears Monday after a four-day excused absence, Brandon Marshall acknowledged that he went for a checkup on his surgically-repaired hip and that it's in "amazing shape."
"Structurally, my hip is great," the Pro Bowl receiver said after practicing without restrictions. "My hip's in great shape. It's going on eight months out and I'm ready to roll."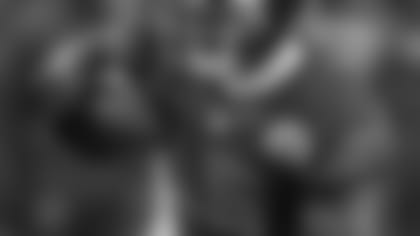 Receiver Brandon Marshall has been voted to four Pro Bowls in seven NFL seasons.
After shattering Bears receiving records with 118 catches and 1,508 yards in his first season with the team last year, Marshall underwent arthroscopic hip surgery in January for the third time during his NFL career. He was unable to practice until early June, but deemed himself 100 percent when he returned.

Marshall sat out the preseason opener and struggled two weeks later against the Raiders, dropping three passes without recording a reception. Last Tuesday he told reporters that he wasn't where he wanted to be in terms of his conditioning and was uncertain about his role in the Bears offense.

"I was a little frustrated and I'm going to be frustrated," Marshall said Monday. "I think that's just human nature. There's going to be some ups and downs this season, but we've got to stay productive and efficient and effective in the way we act. I'm just excited to be here.

"It's tough playing at a high level. When you have a surgery, sometimes you get frustrated getting back to that level. We have a lot of amazing things going on here on and off the field, and I want to be a part of it. At times it can be [frustrating], but we made it to Week 1 and that's a positive thing."

If Marshall's hip is bothering him, it hasn't been evident to Marc Trestman. But the Bears coach will monitor the situation as Sunday's regular-season opener against the Bengals approaches.

"I don't see that in practice because he's working hard and he's running at full speed and maybe working through it in his mind," Trestman said. "So we have to communicate. We have to make sure we're not going to do anything to hurt him. We're not trying to do that. We want to make sure he's able to go at full speed every play he can be in there for. I just don't see it in practice at the present time."

Last Tuesday Marshall said that he felt "rushed a little bit" to rebound from his surgery, but on Monday the eight-year NFL veteran denied that the Bears were pushing him too hard.

"Coach Trestman has been great," Marshall said. "[General manager] Phil Emery has been great. We've sat down plenty of times talking about what we need to do to get to this week. So they've been really helpful. But now it's go time."

Just six days away from season opener, it doesn't sound like Emery is concerned about the 6-4, 230-pounder.

"He's going to get mad at me for saying this because I have been telling him this all summer: I see a guy that is better than he was last year," Emery said. "I see a guy that is more dynamic. I see a guy better in and out of his breaks. I see a stronger player.

"When you stand up behind Brandon Marshall, you realize how big that man is at the position that he plays. He's at an elite level for his position in terms of size, dynamic ability and production. I don't see any back off. Actually, I see a better player.

"Obviously he was a little frustrated about where he is at and he's definitely shared that with me. Those are conversations that we've had, and that's just an athlete wanting to be elite, wanting to be the best at his game. His goal is to be the best wide receiver in the NFL on the best team. I've got no problem with those goals. I've got no problems talking to him about those goals."