Though he only returned to practice nine days ago, Marquess Wilson says he's willing and able to accept any role he's asked to fill Sunday when the Bears visit the Giants.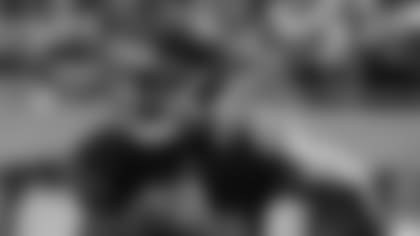 Bears wide receiver Marquess Wilson started practicing Nov. 7 and was moved to the active roster Tuesday.


"Whatever they need me to do, I just want to do it," Wilson said. "If they throw me in there, they may want me to play a lot of snaps. I'll try my best. Anything to help the team."
Wilson broke the same foot he fractured late last season for a second time during minicamp in June and spent the first six weeks of the season on the physically-unable-to-perform list. He started practicing Nov. 7 and was moved to the active roster Tuesday.
"Last week was his first week of practice back," said coach John Fox. "There was a little bit of soreness early. I think he's gotten over that. I thought he had a good workout today. We'll evaluate that moving forward, maybe if he'll be on a pitch count or how much he'll play. We're evaluating that each day and I think he had a good day today."
Wilson, who practiced on a limited basis Wednesday, is returning at the perfect time given that receiver Alshon Jeffery is beginning a four-game suspension without pay for violating the NFL policy on performance-enhancing substances.
"It's never a good thing for a guy to go down like that," Wilson said. "I mean, we are all here for Al, and we're all focusing and we've all got to step up and pick up a bigger role and just work together and fight through this. All of us receivers have to step up and make plays when plays are called our way."
Injury update: Bears who didn't practice Wednesday were offensive tackles Bobby Massie (concussion) and Mike Adams (illness), nose tackle Eddie Goldman (ankle), defensive end Mitch Unrein (back) and cornerback Deiondre Hall (ankle).
Those who were limited included cornerbacks Tracy Porter (knee) and Bryce Callahan (hamstring), outside linebackers Pernell McPhee (knee) and Willie Young (ankle), receiver Eddie Royal (toe) and guard Josh Sitton (ankle).
There was some good news on the injury front as running back Jordan Howard practiced without restrictions after exiting last Sunday's loss with an ankle/Achilles injury.
Familiar face:** The Bears will face their all-time leading scorer Sunday in kicker Robbie Gould, who has made one field goal and nine extra points without a miss in three games with the Giants.
The Bears released Gould Sept. 4 after 11 seasons. He remains their all-time leading scorer with 1,207 points and their most accurate field-goal kicker, making 85.4 of his attempts (276 of 323).
Special-teams coordinator Jeff Rodgers told reporters Wednesday that preparing to play against Gould is "similar to any kicker that we face."
"You try to look at what the recent tape is and has anything changed," Rodgers said. "Obviously we know him a lot better than we do a lot of kickers around the league. There's a little more background on specialty kicks. Kickoff-wise, it's very challenging to see which direction he's going. That was the case when we were coaching him and certainly the case on tape."
Comfort zone: The kicker who replaced Gould, Connor Barth, has made eight straight field goals since missing four of his first seven attempts. He nailed his only try last Sunday, a 54-yarder, in familiar surroundings—Barth played for the Buccaneers from 2009-12 and again in 2015.
"There's obviously a comfort in that stadium," Rodgers said. "I'd imagine that—I didn't chart it—but he's probably kicked a lot more of his kicks in that stadium than he has otherwise having played for them. So he knows the conditions and the field and all those things."