With Julius Peppers watching Thursday night's preseason game against the Chargers from the sideline in street clothes, Bears defensive ends Corey Wootton and Shea McClellin both took advantage of expanded playing time.
Midway through the second quarter, Wootton slipped past rookie right tackle D.J. Fluker with a nifty inside move and sacked quarterback Phillip Rivers for a nine-yard loss. Facing third-and-long on the next play, Rivers was intercepted by safety Chris Conte.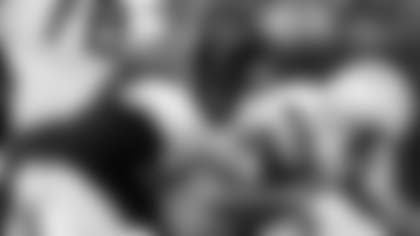 Shea McClellin sacks Phillip Rivers, forcing a fumble that the Bears recovered Thursday night.
On San Diego's next possession, McClellin beat left tackle Max Starks off the edge for a blindside sack, forcing a Rivers fumble that was recovered by safety Major Wright at the Chargers' 35. Four plays later, Matt Forte's 3-yard touchdown run gave the Bears a 14-0 lead.

"That is what we need to do," McClellin said following the Bears' 33-28 win at Soldier Field. "If one guy is out, we've got to step in and carry the flag and do our job. We have to make bigger contributions. I think it will be good for us making plays."

Wootton and McClellin are battling for a starting position opposite Peppers, though both are expected to see significant action this year regardless of who wins the job.

"It was good because we were getting more reps out there," Wootton said. "Normally, we probably would have been switching off, but it was good for us to both get the same amount of reps because at the end of the day we are competing with each other and it is good for us to both be out there and get some good tape."

After being sidelined in training camp with minor hip and calf injuries that forced him to sit out the Bears' preseason opener against the Panthers, Wootton didn't wait long to make an impact Thursday night.

"It definitely felt good to be out there just because I had missed a bunch of practices," Wootton said. "To finally be able to get a big hit in the game, it felt good to be out there and be able to get some pressure."

After being picked by the Bears in the fourth round of the 2010 draft, Wootton was slowed by injuries early in his career. But the 6-6, 270-pounder from Northwestern had a breakout season last year, playing in all 16 games for the first time with seven starts and recording seven sacks.

McClellin was selected by the Bears in the first round of last year's draft (19th overall). He showed flashes as a rookie, recording 2.5 sacks in 14 games. The 6-3, 260-pounder from Boise State is confident that he'll be more productive in his second NFL season.

"I feel definitely way more comfortable than I did last year," McClellin said. "It's a process and I'm just trying to work on getting better."