There's no better day than the Fourth of July to celebrate lifelong Bears fan Marvin Jacobs, a 93-year-old World War II hero who's featured in the latest episode of "Inside the Bears."
Jacobs was a Paratrooper in the 17th Airborne Division who fought behind enemy lines. He was awarded a Purple Heart after getting injured in the Battle of the Bulge. After recovering, he joined the 82nd Airborne Division and helped liberate a German concentration camp.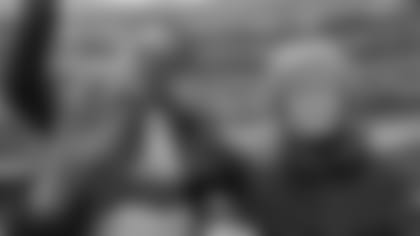 Lifelong Bears fan Marvin Jacobs was honored at a game last November at Soldier Field.


As a high school athlete, Jacobs played in two championship football games at Soldier Field. After the war, he played guard and linebacker on an Army football team.
Jacobs became a Bears fan in the 1930s. "I saw my first game when I was about eight years old and I just took to the game," he says in the "Inside the Bears" piece. "I loved playing it. I loved watching it. To me it was fascinating. I couldn't get over what they did on the field."
Jacobs has watched a slew of Hall of Famers play for the Bears over the past eight decades, but star middle linebacker Dick Butkus stood head and shoulders above the rest.
"He was the favorite because he was the toughest guy I've ever seen on a football field," Jacobs said. "He played his heart out. He was fabulous. He was the best player I've ever seen."
Jacobs was honored by the Bears as their Salute to Service member last November during a game against the Titans. He was selected after his son, Keith, sent a letter to the team detailing his father's story.
"I was fascinated, overwhelmed and looked around and said, 'Who am I to be here?'" Jacobs said. "But it was fabulous."