New Bears receiver Kendall Wright played the best football of his NFL career under Dowell Loggains and is excited about reuniting with the offensive coordinator in Chicago.
Wright was selected by the Titans in the first round of the 2012 draft and excelled in his first two seasons in Tennessee with Loggains as his coordinator, catching 64 passes for 626 yards and four touchdowns as a rookie and 94 passes for 1,079 yards and two TDs in 2013.
"With Dowell, when he was there, he obviously let me play," Wright said Wednesday during a conference call with reporters. "I was on the field. Actually I wasn't getting 10, 15 plays a game. He didn't put any limitations on my game. He didn't tell me to just play slot. He let me play whatever I wanted to play, whatever position. The more you can do with him, the better you'll be."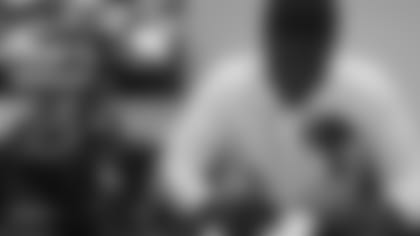 New Bears receiver Kendall Wright signs his contract Wednesday at Halas Hall.


After Loggains left the Titans, Wright's production slipped to 57 receptions in 2014 to 36 in 2015 to a career-low 29 for 416 yards and three TDs last year. He was limited to 11 games in 2016, missing the entire preseason and the first three weeks of the regular season with a hamstring injury and was a healthy scratch in two contests late in the year.
In joining the Bears, Wright is eager to revert to the form he showed early in his career with the Titans.
"My strengths are speed, quickness and hands," he said. "I can do a lot when I'm out there on the field. It doesn't seem like I've been out there on the field for a long time really. To me, it didn't feel like I played football last year. But I'm ready and when I'm on the field there is no telling what I can do. I feel like I can do a lot of things."
Wright is excited about teaming up with fellow free-agent signee Markus Wheaton, a speedy receiver who joined the Bears after spending his first four NFL seasons with the Steelers.
"I haven't really watched him much," Wright said. "But I know he's fast and he has a lot of explosive plays in his career that I've seen through highlights. I can tell from watching his game that he's a hungry player. He's ready to go out there and play. He's really tired of being behind everybody and kind of getting overlooked. That's just what I see from looking at him and I haven't even talked to him yet. Just looking at his game, that's what I see; a hungry receiver that [wants to get] out of the shadows of Antonio Brown and Martavis Bryant to show everybody what he can do."
Wright is also looking forward to working with new Bears quarterback Mike Glennon, who the receiver described as a "hungry quarterback who hasn't played much, but you know he can sling it."
Wright enjoyed hearing Glennon say at his introductory press conference that one of the quarterback's main objectives will be to get the ball into the hands of the team's playmakers.
"The first time I ever heard Mike Glennon talk he said he likes throwing the ball to the playmakers, and that's what I call myself and that's what Markus calls himself—playmakers," Wright said.
"For us to be out there on the field with Kevin [White], [Joshua] Bellamy and [Cameron] Meredith, all of us out there, whoever is out there at that time, I think we can stretch the field and do a lot of different things if we're in the slot or outside getting each other open."
Wright doesn't think it will take long for Glennon to create chemistry with his receivers.
"I was with Tennessee five years and I think I played with 10 quarterbacks," Wright said. "So this won't be hard. Mike's already reached out to us in a group text, so we should be getting together soon and throwing."
Get to know new Bears wide receiver Kendall Wright with action shots of his time spent with the Tennessee Titans (2012-16). He tallied 3,244 yards on 280 receptions (11.6 avg) and 18 touchdowns.