Having recovered from last year's season-ending leg injuries, Willie Young and Lamarr Houston both have been cleared to participate in the Bears' first training camp practice Thursday.
Young led the Bears with a career-high 10 sacks in 2014 despite rupturing his Achilles' tendon in a Week 16 loss to the Lions. Houston tore his ACL in a Week 8 defeat to the Patriots. While cleared to practice, both are expected to be eased back into action.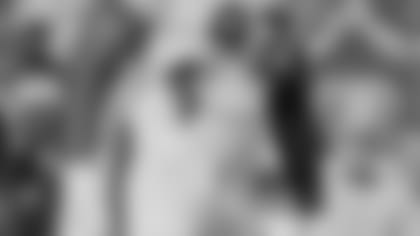 Willie Young led the Bears with 10 sacks in his first season with the team in 2014.
"It's just going to be a progressive stage with our coaches," said general manager Ryan Pace. "It might not be full-fledged 100 percent of practice. It could be, 'Hey, we're going to do some individual, a couple of periods and just be smart with it.' Build them up with their football activities."
After playing defensive end last season, Young and Houston have both moved to outside linebacker in the Bears' new 3-4 scheme under coordinator Vic Fangio.
Coach John Fox is hopeful that Young and Houston will be able to play in the Bears' season opener Sept. 13 against the Packers at Soldier Field. "That's the plan," said the veteran coach.
Two of Fox's players last year with the Broncos—cornerback Chris Harris and outside linebacker Von Miller—were voted to the Pro Bowl after recovering from torn ACLs.
"So much of those injuries are mental as well, both with the athlete and the people evaluating them," Fox said. "Just as far as building that up and that confidence, we had a couple of guys a year ago we did that with in Denver. So we've got a pretty good plan, a pretty good track record of doing it."
Long story: Kyle Long will open training camp at his customary right guard position, but he could move to other spots along the offensive line as he did during offseason workouts.
"He'll start there, [but] I don't know where he'll end up." Fox said. "Players pick the roster; it's a performance-based business. We're all held to it. Talking about it doesn't do much."
The Bears often move their offensive linemen around in practice because they want to be prepared to deal with injuries in games. NFL teams typically dress only seven offensive linemen on game day and could be forced to play someone at an unfamiliar position if they lose a couple starters.
"We're going to be ready for that," Fox said. "So guys will line up in multiple spots in this training camp."
Giving back: Fox praised quarterback Jay Cutler for organizing workouts with a handful of Bears teammates earlier this month in Nashville.
"It's something we've spent a lot of time on, our offensive staff, working with Jay or any other player, is all the elements of leadership [and] giving back," Fox said. "He's a very giving, caring person, in my opinion, in my short timeframe with him. You're always trying to build guys, not just on the field, but off the field as well, and he's done everything we've asked of him so far."
Fox later acknowledged that while that type of leadership is impressive, all Cutler or any other NFL player ultimately will be judged on is what they accomplish on the field.
"At the end of the day, we're a performance-based business," Fox said. "No matter what we say about anybody, it's going to come down to how we perform on Sundays or Mondays or whenever they line us up. The guys have done everything we've asked at every level. We've just got to go out and perform well."
Moving on: Rookie guard Chad Hamilton, an undrafted free agent from Coastal Carolina, informed the Bears that he's retiring from football.