A year ago when Willie Young was trying to rebound from a torn Achilles' tendon and simultaneously learn a new position, his future with the Bears was unclear.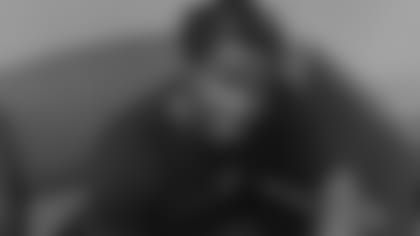 Outside linebacker Willie Young signed his two-year extension at training camp.

But after getting healthy and making a successful transition from defensive end to outside linebacker in 2015, Young was rewarded late Friday night with a two-year contract extension that runs through 2018.
"I'm slightly speechless right now but super excited about the opportunity to extend my career with the Bears," Young said Saturday after practice. "I want to give a big thanks to the organization for absolutely believing in me with no doubt."
When Young's new deal was finalized about 11:30 p.m. Friday, he became the first player to sign an extension with the Bears before his contract expired since Ryan Pace became general manager in January 2015.
"It's our first contract extension here, so I'm excited about that," Pace told reporters. "I'm excited for Willie and excited for the Bears. We did this because of everything he brings to the table. He's a productive player, he's a good player and most importantly he's a good teammate.
"It feels good to reward somebody that's worked as hard as he's worked and overcome the injury last year, and is the leader that he is out there mentoring our younger players. I feel really good about it. It's good for our locker room and it's good for our team."
Young, 30, originally signed with the Bears in 2014 after spending his first four NFL seasons with the Detroit Lions. In his first year in Chicago, he recorded a career-high and team-leading 10 sacks.
Young had played end in a 4-3 defense in each of his first five NFL seasons with the Lions (2010-13) and Bears (2014). So when he was moved to outside linebacker as part of the Bears' shift to a 3-4 scheme in 2015, some felt it was like trying to put a square peg in a round hole.
But Young, who was selected by the Lions in the seventh round of the 2010 draft out of North Carolina State, wasn't going to let the position change prevent him from succeeding. The 6-4, 258-pounder led the Bears last year with 12 tackles-for-loss, ranked second with 6.5 sacks and even recorded his first career interception.
"Willie was a very productive player for us even though he was coming off a major Achilles' injury," said coach John Fox. "He's a good teammate and we're really proud to have him as a Chicago Bear for an extended period of time. My experience has been that you put good drafts together and the free agency option is signing your own. Willie is the first opportunity we've had in our tenure to do that."
Pace became convinced that Young could thrive in the Bears' 3-4 defense midway through last season and feels that the Florida native will continue to improve.
"He's getting so many reps now, the dropping in coverage and those things are becoming easier for him, so I think he's going to get better in this scheme the more reps he gets," Pace said. "But he's a well-rounded player. He works hard, he's always in shape and, again, he's a good teammate."
Primarily a pass-rush specialist early in his career with the Lions, Young is once again expected to be an integral three-down contributor on the Bears defense this year.
"He just keeps his head down and just works and I appreciate that about him," Pace said. "Again, I feel like he's still getting better. Earlier in his career he was more of a sub player and he's getting more opportunities now and I think he'll capitalize on those."
While Young is an excellent speed rusher, there's a great deal more to his game.
"He's not a one-trick pony," Pace said. "He can win multiple ways in his pass rush, which we like. But he sets the edge really stout. You'd think for a guy that tall and lean you'd worry about stoutness and whatever. We don't at all because he's got some good upper body strength and he uses his hands well and he separates and sheds. So I just think he's a well-rounded player that's adjusted well to the scheme."