Bears coach Marc Trestman confirmed Monday that defensive end Willie Young suffered a torn Achilles' tendon in Sunday's 20-14 loss to the Detroit Lions.
Young, who signed with the Bears as a free agent in March after spending his first four NFL seasons with the Lions, leads the team with a career-high 10 sacks.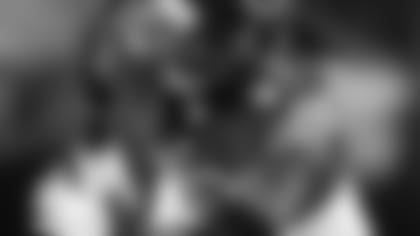 Willie Young
"That's a tough one," Trestman said. "He has kind of been an inspirational leader. He's a charismatic guy. He keeps people up. He's fun to be around. He's a guy who is always up and around the building and has played well and gotten better throughout the season. He'll be missed on Sunday certainly."
Trestman revealed that Young will undergo surgery, but did not provide a timetable for his return.
Kicker Robbie Gould stated during an interview on WSCR-AM 670 Monday that he will miss his fourth straight game with a quad injury Sunday when the Bears close the season in Minnesota.
Gould remains tied with Kevin Butler for the most field goals in Bears history with 243. Gould made 9 of 12 attempts this season, including just 1 of 3 over his final six games. Replacement Jay Feely has not attempted a field goal in three contests.
Raiola suspended: The NFL on Monday suspended Lions center Dominic Raiola one game without pay for stomping on the back of Bears defensive tackle Ego Ferguson's leg in Sunday's game.
In a press release announcing the NFL's decision, it's noted that this is Raiola's sixth safety-related rules violation since 2010. He will miss Sunday's game against the Packers in Green Bay, a contest that will determine the NFC North Division champion.
Arrow pointing up: Trestman praised linebacker Christian Jones, one day after the undrafted rookie led the Bears with 11 tackles and recorded his first NFL sack.
"He is ascending," Trestman said. "He's learning the game on the run and the more he gets to see things the better he's getting. He's playing faster. I think he's doing a lot of good things. We're excited about him."
Disappointing day: Receiver Alshon Jeffery uncharacteristically struggled with drops Sunday, including a crucial one on third-and-10 that could have sustained the Bears' final drive.
"Alshon is his own worst critic," Trestman said. "Those are plays I know he wanted to make and can make. He certainly didn't have the day he wanted to have. He had opportunities, he didn't get it done. He's a guy who takes real responsibility when he doesn't do the things we're calling on him to do.
"It wasn't a day that he's going to look back at and know that he did everything he could to help the team, but he's not the only guy. There is no one guy, no one player. I've said that many times, but I know him. He's not feeling good today about the game he played, and we feel for him because of the work he puts in. He knows he's got to do better; we all do."
Job talk: With rumors about his future as Bears coach intensifying, Trestman was asked whether he's been informed that he will return next season.
"I've been supported by this organization since Day 1; that hasn't changed," he said.