A neck-and-neck competition for the Bears' backup quarterback position between Jimmy Clausen and Jordan Palmer ended Sunday when Palmer's contract was terminated.
A day later, coach Marc Trestman explained that while both performed at a consistent level, Clausen won the battle primarily because he's younger and has more NFL experience.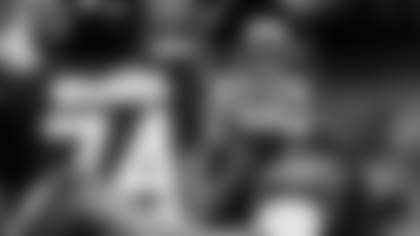 It appears that Jimmy Clausen will enter the season as the Bears' No. 2 quarterback behind Jay Cutler.
"The competition was very close," Trestman said. "But at the end of the day the upside for Jimmy is his age, his experience and he came highly recommended from some people I trust in Carolina."
In three preseason games, Clausen has completed 24 of 37 passes for 280 yards with two touchdowns, one interception and a 94.4 passer rating, while Palmer has connected on 21 of 30 passes for 225 yards with 1 TD, 1 interception and an 88.9 rating.
Clausen, who will turn 27 next month, has appeared in 13 NFL games with 10 starts—all in 2010 during his rookie season with the Carolina Panthers. Palmer, 30, has played in four games with no starts—all from 2008-10 with the Cincinnati Bengals. Neither has thrown a pass in a regular-season game since 2010.
Clausen was selected by the Panthers in the second round of the 2010 draft out of Notre Dame. As a rookie, he completed 157 of 299 passes for 1,558 yards with three touchdowns, nine interceptions and a 58.4 passer rating while being sacked 33 times.
Trestman was impressed with the leadership that Clausen displayed as a rookie and how he dealt with adversity.
"He stood up tall through a lot of tough times in Carolina and gained the respect of his teammates and the team there with the way he handled himself in a very difficult year," Trestman said. "He went through a lot of adversity. Jimmy started out a rough go. He was put into a starting position. He was knocked all over the place, took a lot of hits, and continued to stand tall and try to help his football team win. That's only going to help him."
After sitting out last season with a shoulder injury he sustained in the Panthers' preseason finale, Clausen signed with the Bears June 5. At a disadvantage due to his late arrival, Clausen made up for lost time by spending nights and weekends with his playbook.
"I studied really hard when I first got here," Clausen said. "I was playing catch-up and I was playing catch-up when I was back home getting ready for training camp. I grasped the offense pretty well, but I'm still a long ways away from where I want to get to."
Digesting the terminology in the Bears offense was the most difficult challenge.
"Concepts are the same since high school and college until now," Clausen said. "But learning a whole different language in a month-and-a-half is pretty tough. I've just got to grind it out every day; spending hours studying, going over flash cards, just trying to memorize formations and plays and concepts and get all the old stuff out of my head and get this stuff ingrained."
Trestman credits Clausen's work ethic with helping him make a smooth transition.
"He's worked very hard to get in this place," Trestman said. "He came in here and really worked hard to learn this offense; spent a lot of time. He's extremely detailed. I think that really helped him get up to speed quickly to be part of this competition with Jordan."
Clausen doesn't intend to stop working so hard just because the Bears released his main competition for the backup position behind Jay Cutler. He knows that anything can happen in the NFL.
"It's good that the coaches have the confidence in me to name me the No. 2 behind Jay. But we've got a long ways to go. With free agency and the waiver wire and trades and this that, there's so much going on in the league you've just got to keep going out and competing each and every day. You have clarity that you're the No. 2 guy [for now]. But it doesn't change my mindset."