Which prospects improved their draft stock at the NFL Combine?
With the annual event now in the books, we sought that answer by perusing several websites dedicated to the draft.
According to the analysts, these eight players—listed alphabetically—helped themselves the most at the Combine:
Adetomiwa Adebawore, defensive end
Northwestern
Mentioned by CBS Sports, ESPN, NFL.com, PFF, SB Nation, USA Today
Adebawore introduced himself emphatically with a 4.49 40, the fastest of any player weighing 280-plus pounds since 2003. He was two-hundredths of a second faster than last year's No. 1 overall pick, Travon Walker, despite weighing 10 pounds more than Walker (282 to 272). Adebawore also out-jumped Walker in the vertical (37 1/2 inches to 35 1/2 inches) and broad jump (10-foot-5 to 10-3). His drills weren't quite as impressive as his testing numbers, but because he tested so well, a number of teams will surely take a closer look at him as a sub-package rusher who could grow into a productive 3-technique. The same explosion that was on display in his testing should benefit him at the next level. It certainly opened some eyes to his potential Thursday.
Adebawore was one of the stars of Thursday, putting up the fastest 40-yard dash (4.49 seconds) of any player over 280 pounds at the combine since at least 2006, according to ESPN Stats & Information research. He also has the second-best vertical jump (37.5 inches) of any player over 280 pounds. Those are off-the-charts numbers. The question for NFL teams now is: Why doesn't Adebawore's sack production match his physical traits? He had 9.5 sacks over the past two seasons, playing about three times as many snaps as an edge defender vs. a defensive tackle. That versatility will help, but he's a bit of a tweener at the next level. Adebawore was just outside my defensive end rankings headed into the week, but he's firmly in the third-round discussion now.
Sydney Brown, safety
Illinois
Mentioned by NFL.com, PFF, SB Nation
Like Clark Phillips III, Brown picked off six passes last year. Unlike Phillips, though, Brown was a big winner from the combine. Despite coming in at just 5-foot-10, he has a rocked-up build at 211 pounds. He also tested above the 93rd percentile for safeties in the bench press, 40-yard dash, 10-yard split, vertical jump and broad jump. He proved incredibly explosive, as his 10-yard split (1.51 seconds), vertical jump (40.5 inches) and broad jump (10-foot-10) were all above the 97th percentile. Brown should be a second-round pick come April.
Brown finished in the top three among DBs in the early returns on Next Gen Stats athleticism scores, posting a 4.47 40, a 10-10 broad jump and a 40 1/2-inch vertical. While it wasn't as impressive as his numbers, Brown's on-field workout was solid; though he allowed his athleticism to drive him out of control at times, he recovered nicely to finish reps on a strong note. Brown's tape leads one to believe his pro career could follow the trajectory of Talanoa Hufanga, who earned first-team All-Pro honors as a second-year pro with the Niners in 2022. In fact, Brown could enjoy similar success even quicker than Hufanga, provided he lands in the right situation through the draft. Teams will certainly be eager to take a close look at him after his total performance Friday, and for good reason.
Jack Campbell, Iowa
Linebacker
Mentioned by NFL.com, PFF, USA Today
Michael Middlehurst-Schwartz, USA Today:
Old-school build meets new school athleticism. That's what Campbell can sell to teams thanks to his well-rounded testing (37 ½-inch vertical, 10-7 broad jump) and 6-5, 249-pound frame. Most impressive of all: a 6.74-second three-cone drill that was easily tops among linebackers and underscored his nimbleness.
As the highest-graded Power Five linebacker this past season (91.7), Campbell was seen as a high-floor player with a relatively low ceiling due to a perceived lack of athleticism. He put all of those athleticism questions to bed with a stellar combine effort. The 2022 Butkus Award winner has elite size for the position at 6-foot-5 and 249 pounds. He also tested above the 82nd percentile for his position in the 10-yard split, vertical jump, broad jump, three-cone and short shuttle. In particular, his three-cone (6.74 seconds) and broad jump (10-foot-8) were above the 97th percentile for linebackers. With both fantastic tape and elite athleticism, Campbell has a strong case to be the top linebacker in the 2023 NFL Draft.
Zach Kuntz, tight end
Old Dominion
Mentioned by CBS Sports, PFF, SB Nation, USA Today
Chris Trapasso, CBS Sports:
This former Penn State tight end measured in at 6-foot-7 and 255 pounds with 34-inch arms and ran 4.55 in the 40 and led the way in all the major drills at his position. Highest vertical (40 inches) and broad jump (10-foot-8) and, stunningly, the quickest three-cone at a receiver-list 6.87 seconds. You know how hard it is for a 6-7 tight end to execute a three-cone drill that clean?
Joseph Acosta, SB Nation:
After a final season at Old Dominion that ended abruptly due to injury, Kuntz came into Indianapolis hoping to flash the vertical field stretching ability that he did in college. Despite being in the same TE group as Georgia's Darnell Washington (who also had a dominant combine), Kuntz caught a lot of eyes. Measuring in at 6'7 and 255 pounds, Kuntz blazed a 4.55 40-yard dash and jumped 40 inches in the vertical jump. His overall RAS of 10 puts him among the best at his position ever.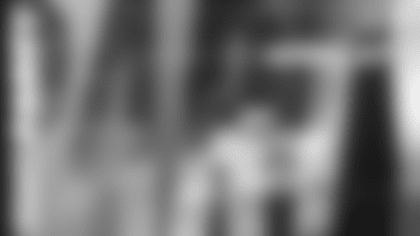 THE BIGGEST BEARS PARTY OF THE YEAR
There's no offseason for the Bears, and this year we're celebrating an historic offseason with the whole family. We'll get together for THE MOMENT we welcome the newest Bears into the family. Join us at Soldier Field for the 2023 Miller Lite Chicago Bears Draft Party, and spend night 1 of the Draft with thousands of your closest friends.
We'll have non-stop Draft coverage and analysis, plus the spring's best party with activities across the Dr Pepper Patio, the Miller Lite Midway, the Verizon Mezzanine and on the field. Tickets for this year's Draft Party are currently sold out. Check back for updated information between now and April 27th. If further tickets become available, you'll hear about it here first.
Anthony Richardson, quarterback
Florida
Mentioned by CBS Sports, PFF, USA Today, Yahoo Sports
Josh Edwards, CBS Sports:
Richardson had a historic performance for his size. He set the tone early in the day with a 40.5-inch vertical jump and a 10-feet-9-inch broad jump. When he stepped in front of the nation for the first time, he ran a 4.43-second 40-yard dash and followed that up with a tremendous on-field showing. Athleticism will only get a quarterback so far in the NFL, but if Richardson is able to figure the rest out, he is going to be special.
Richardson put on a show for the ages in Indianapolis. He broke the combine record for quarterbacks in both the vertical (40.5 inches) and broad jumps (10-foot-9). Then, he ran a 4.43-second 40-yard dash, the fourth-fastest time ever recorded by a quarterback. After that, he showed off his bazooka of a right arm that will immediately be one of the strongest in the league. Richardson did all of that while measuring in with a monstrous 6-foot-4, 244-pound frame. He has some of the freakiest tools ever seen at the quarterback position and is making a strong push to go in the top five when it's all said and done.
Nolan Smith, edge rusher
Georgia
Mentioned by ESPN, NFL,com, PFF, USA Today
Smith, who tore his right pectoral muscle in November and missed the rest of the season, did just three drills on the field Thursday night, but he was elite in each one. He ran a 4.39-second 40-yard dash and put up a 41.5-inch vertical and 10-foot-8 broad jump. At 238 pounds, he is now the second-heaviest player to run a sub-4.4 40 and have a 40-plus-inch vertical jump at the combine since 2006 (Vernon Davis is the other). Those are unreal numbers for an outside linebacker. NFL teams covet edge rushers – it's one of the positions they reach for most. Smith has all the physical tools teams want in an outside linebacker, but he had just 6.5 sacks over the past two seasons and too often got swallowed up by offensive tackles. He has to develop more pass-rush moves. I don't have a Round 1 grade on Smith -- he's my No. 3 OLB -- but I could see a team falling in love with him and taking him in the 15-25 range in April.
Smith had a day for the books, wowing onlookers with a 40 time that initially clocked in at 4.44 seconds, which upset the edge rusher because he was aiming for a number in the 4.3-second range. When the official results were revealed, Smith received his wish: He'd actually run a 4.39. It looked just as fast in person. Smith put together an incredible round of testing, posting the second-fastest 40 time for a defensive lineman since 2003. He also finished as the heaviest player in the past 10 combines to post both a 40-inch-plus vertical leap (41 1/2 inches) and a 40 time below 4.4 seconds. The best part about all of it: He's not just a workout warrior; these numbers show up on the tape. Even though he didn't participate in on-field drills Thursday, he'd already done enough to make headlines in Indianapolis.
Jaxon Smith-Njigba, receiver
Ohio State
Mentioned by ESPN, NFL.com, PFF, USA Today, Yahoo Sports
This selection isn't so much about a player rising as it is entrenching his position. There were a lot of questions about Smith-Njigba heading into the week because he is coming off a totally lost season due to a hamstring injury. We saw him dominate in 2021, but he ran just 42 total routes all of last season. Would he show that he's a lock to be a first-round pick? The answer is a definitive yes, even though he's waiting to run the 40-yard dash until his pro day later this month. Smith-Njigba led all receivers in Indianapolis with a 6.57-second 3-cone time and a 3.93-second short shuttle. Those are quick numbers. That explosiveness is all over his 2021 tape. Plus, he was effortless in the receiving drills, snatching the ball out of the air and being silky smooth out of his breaks. Smith-Njigba is going in Round 1 in April, potentially in the top 15.
Michael Middlehurst-Schwartz, USA Today:
In his first on-field display since October, Smith-Njigba reminded many that he is peerless among this draft's receivers when it comes to polish. The 6-1, 196-pounder was on a different level in his workout, looking effortless in all of his movements and easily reeling in passes. And while Smith-Njigba didn't run a 40-yard dash, his combine bests in the short shuttle (3.93 seconds) and three-cone drill (6.57) served as additional proof of his elite agility. In an uninspiring class of receivers, there's a solid case to be made for him to be the first off the board at the position.
Darnell Washington, tight end
Georgia
Mentioned by NFL.com, USA Today, Yahoo Sports
Lawrence Jackson Jr., Yahoo Sports:
Checking in at nearly 6-foot-7 and 264 pounds, Washington posted a 4.64-second 40-yard dash, a 10-foot-2 broad jump and the fastest 20-yard shuttle amongst tight ends at 4.08 seconds which would've been second amongst the wide receivers. Known for his combination of blocking and receiving skills, he put the latter on display in drills when he caught a one-handed fade route. This year's tight end class is loaded with talent that includes Michael Mayer, Luke Musgrave, Dalton Kincaid and Luke Shoonmaker and Washington did everything in his power to separate himself from that group. Although he still may not be the first tight end taken, you can't argue with anyone who feels like he should be.
Michael Middlehurst-Schwartz, USA Today:
Any reasonable person might expect a 6-7, 264-pound tight end to be little more than an extra blocker. Not the case for Washington, who turned heads with a 4.64-second 40-yard dash and the best short shuttle (4.08 seconds) at the position. His twisting one-handed catch also served as one of the best highlights from the event, while he manhandled the sled that proved far more difficult for his peers. Given that there might not be much separating the top four tight ends and that all could make the first round, Washington might have helped himself significantly with this outing.