INDIANAPOLIS – The high level of respect that some of the nation's top NFL draft prospects have for Justin Fields has been evident this week at the Combine.
The Bears quarterback has been widely praised by former Ohio State teammates as well as players from other schools who'd welcome the chance to join him in Chicago.
Buckeyes quarterback C.J. Stroud marveled at how Fields blossomed into an explosive playmaker in his second season with the Bears.
"I was proud of him, man," Stroud said. "There's so many times you get knocked back down, but I feel like a true man's character is when you get knocked down, how do you get up? And he's gotten up every time and he stepped to the plate. As a human that just shows you what type of man he is and what type of family he comes from. So just knowing him as a person, that's really cool."
In 2022, Fields rushed for 1,143 yards—the second most by a quarterback in NFL history—and eight touchdowns and threw for 2,242 yards with 17 TDs, 11 interceptions and an 85.2 passer rating. 
Stroud has a message for those who question whether Fields can excel as a passer and not just a runner.
"You have to make plays with your feet, and he ain't no damn running back," Stroud said. "He's a quarterback and he can sling that rock."
That was evident in 2020 when the two were Ohio State teammates. While Stroud redshirted as a true freshman, Fields quarterbacked the Buckeyes to an undefeated regular season, the Big Ten Championship and a berth in the College Football Playoff, all for the second straight year. In addition, Fields won his second consecutive Big Ten Offensive Player of the Year Award. 
Another top NFL prospect at the Combine, receiver Jaxon Smith-Njigba, also teamed with Fields in Columbus. During a recent appearance on the "Pardon My Take" podcast, Fields said that the one player he hopes the Bears draft is Smith-Njigba.
"Since he's been in Chicago, we've always talked about it," Smith-Njigba said. "Him being like a big brother to me, I definitely appreciate it, coming from a guy like that." 
Smith-Njigba developed a strong rapport with Fields at Ohio State, "just being at practice with him, making plays, and him doing what he does."
"I feel like we definitely had a little connection back in the day," Smith-Njigba added, "but hopefully we can maybe do it again."
Like Stroud, Smith-Njigba is confident that Fields could flourish throwing the ball.
"He's whatever you need him to be," Smith-Njigba said. "He's a great passer. He has a great arm, great eyes, great vision, reads the defense very well." 
Smith-Njigba isn't the only receiver who would enjoy playing with Fields in Chicago.
"Justin, he can make plays with his legs," said Boston College's Zay Flowers. "If people didn't know, he can throw the ball too. He was really a throwing quarterback, but he just had to use his legs last year. Being able to play with somebody that dynamic would just help my game. I think we can complement each other."
"I kind of gravitate to the younger guys in the league," said TCU's Quentin Johnson. "He's very versatile, very athletic, good on the run and in the air. I could see myself fitting there very well."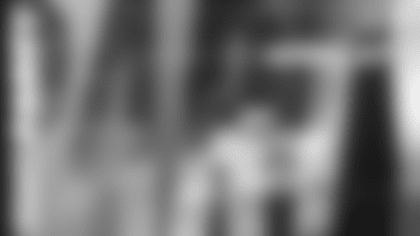 THE BIGGEST BEARS PARTY OF THE YEAR
There's no offseason for the Bears, and this year we're celebrating an historic offseason with the whole family. We'll get together for THE MOMENT we welcome the newest Bears into the family. Join us at Soldier Field for the 2023 Miller Lite Chicago Bears Draft Party, and spend night 1 of the Draft with thousands of your closest friends.
We'll have non-stop Draft coverage and analysis, plus the spring's best party with activities across the Dr Pepper Patio, the Miller Lite Midway, the Verizon Mezzanine and on the field. Tickets for this year's Draft Party are currently sold out. Check back for updated information between now and April 27th. If further tickets become available, you'll hear about it here first.