INDIANAPOLIS – Jaquan Brisker was praised Thursday at the Combine by two former college teammates who are on the cusp of joining the Bears safety in the NFL.
Safety Ji'Ayir Brown, who played alongside Brisker both at Lackawanna College in 2019 and Penn State in 2020-21, is grateful for the guidance that Brisker has provided.
"That's my brother," Brown said. "He definitely was a mentor for me coming in. He took me through the ropes, showed me the defenses, showed me the ins and outs of how to be a college athlete. And even before I came to the Combine, we sat and we talked about what to expect and how to go about that."
Brisker was chosen by the Bears in the second round of last year's draft. In his final season at Penn State in 2021, he was named first-team All-Big Ten and second-team All-American after recording 63 tackles, two interceptions and seven pass breakups.
In his first year with the Bears, Brisker was selected to the Pro Football Focus NFL All-Rookie Team and named Bears Rookie of the Year by ChicagoBears.com. He registered 104 tackles, five tackles-for-loss, a team-leading four sacks, one interception, two pass breakups, one forced fumble and one fumble recovery.
"I watched Jaquan really close [last] year," Brown said. "He had a great season [last] year. He's going to have an even better one [this] year."
Brown was a two-year starter at Penn State, where he displayed ball skills and a knack for creating turnovers. In 26 games over the past two seasons, he compiled 10 interceptions, 19 pass breakups, three forced fumbles and three fumble recoveries. In addition, he was voted defensive MVP of the 2023 Rose Bowl.
Another Penn State defensive back, cornerback Joey Porter Jr., is also grateful to Brisker. The two played together in the Nittany Lions secondary from 2019-21.
"He's a great guy, brought a lot of energy," Porter said. "He was just somebody that you would want to be on the field with. He's going to give the juice no matter what."
Porter received advice from Brisker in Los Angeles shortly before traveling to the Combine.
"He gave me great tips of what to expect and what to do," Porter said. "[He said] 'just be ready for the moment because your name's going to get called.'"
Porter, the son of former four-time NFL Pro Bowl linebacker Joey Porter, was a three-year starter at Penn State who was named first-team All-Big Ten in 2022.
Another NFL prospect from Penn State has an even closer tie to a Bears player. Defensive tackle P.J. Mustipher is the younger brother of center Sam Mustipher, who has appeared in 43 games with 40 starts the past three seasons in Chicago.
"He's given me a ton of advice: 'Just work, and it's simple as that,'" P.J. said. "I've watched him work. When I would go out there and visit when I was in school, he was rarely home because he was working out. And I understand that throughout this process, all you can do is work. That's what's going to separate the good from the great."
P.J. has been inspired by his brother's journey. A three-year starter at Notre Dame, Sam wasn't invited to the Combine or selected in the draft—but nonetheless signed with the Bears as an undrafted free agent and worked his way into the starting lineup, opening 33 of 34 games the past two seasons.
"That shows me that anything is possible if you just work for it," P.J. said. "He's been persistent at that. I've got a ton of faith in him, but I've got a ton of faith in myself because I've been given the blueprint."
P.J. played five seasons at Penn State, registering 144 tackles, 3.0 sacks and 10.5 tackles-for-loss. The first person he'd usually seek input from after games was his older brother.
"We work out a lot [together]," P.J. said. "We bounce ideas off each other, too. The first person I would call after a game would be him, just [about] how to play and he let me know. I definitely appreciate that."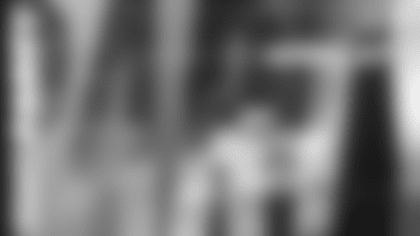 THE BIGGEST BEARS PARTY OF THE YEAR
There's no offseason for the Bears, and this year we're celebrating an historic offseason with the whole family. We'll get together for THE MOMENT we welcome the newest Bears into the family. Join us at Soldier Field for the 2023 Miller Lite Chicago Bears Draft Party, and spend night 1 of the Draft with thousands of your closest friends.
We'll have non-stop Draft coverage and analysis, plus the spring's best party with activities across the Dr Pepper Patio, the Miller Lite Midway, the Verizon Mezzanine and on the field. Tickets for this year's Draft Party are currently sold out. Check back for updated information between now and April 27th. If further tickets become available, you'll hear about it here first.