Alex Brown was selected by the Bears in the fourth round of the 2002 draft (104th overall). He expected to be picked much earlier after becoming Florida's all-time leader with 33 sacks and being named All-American and SEC Defensive Player of the Year.
The 11th defensive end chosen in 2002, Brown played eight seasons with the Bears, helping them win two division titles and one conference championship. He appeared in 127 games with 107 starts and ranks fourth in franchise history with 43.5 sacks.
---
The following is a first-person account by Brown about his draft experience: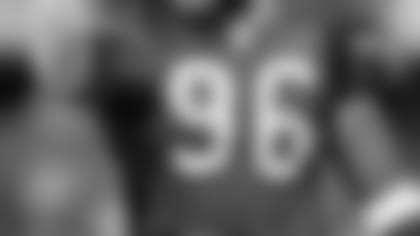 Alex Brown ranks fourth in franchise history with 43.5 sacks.


Back in 2002, the first three rounds of the draft were all on the first day. I heard that I'd be going late in the first or maybe in the second, but for sure I wouldn't make it past the first day.
There were teams out there that I heard buzzes about. The Giants were the only team I visited. I knew they ran a 4-3 defense and they rushed the quarterback with [Michael] Strahan there. After visiting them, I thought the Giants would be the team that took me.
I worked out at my Pro Day at linebacker as well as defensive end, so playing a 3-4 linebacker was in the mix, too. My agent was talking with New England and other teams that ran 3-4 defenses.
I didn't have any contact with the Bears leading up to the draft. But just looking at them I thought, "Maybe they need another sack guy to come in and they'll be set." I was thinking, "I could probably sneak into that first round with the Bears, but they'd take me for sure with their second-round pick if I'm still there." That was my thought process at the time.
I watched the draft at my house in White Springs, Fla. I grew up in a small town and all my family was there. Everybody just walked over to the house and we watched it there. Everybody was excited. I was excited. My agent was there. My wife—she was my girlfriend at the time—was there. We thought I'd go on the first day, but where would I go? Would I get lucky and go to a good team? I didn't know—and I didn't know what was coming was actually coming.
"I thought I was the best defensive end in the draft. But you could understand why the first two were picked. Julius Peppers was an absolute freak of an athlete and Dwight Freeney was a little small but a great pass rusher. But after the first couple rounds passed and more and more defensive ends were being drafted, I was wondering what was going on. What did I do wrong?
Then some kid out of Nevada-Las Vegas and BYU were taken, and Dennis Johnson from Kentucky. I didn't know what the hell was happening. I was considered a little bit of a 'tweener: "Is he a defensive end? Is he a linebacker?" But at the end of the day I played defensive end and I made plays.
When the day ended, I couldn't believe it. I was full of tears. I didn't cry in front of everybody. But I was in my room talking to my wife and I had tears coming out of my eyes. I didn't understand what the problem was. I kept my nose clean in school. I did the stuff I was supposed to do. I played ball on the field. I couldn't go to sleep that night. I was just looking at the ceiling.
The next morning there was talk about the 49ers taking a pass rusher and my name was at the top of that list. Before they were on the clock, the Bears called me and Mr. [Jerry] Angelo said, "If the 49ers don't take you, we're going to take you with our next pick."
The 49ers drafted [Florida kicker] Jeff Chandler. I have a lot of respect for Jeff. He was a really good kicker and he was our all-time leading scorer. He was a walk-on at Florida and worked his way into a scholarship. So him being picked before me and the way I felt about that has nothing to do with him personally, but a kicker went before our all-time leading sack guy? That was absolutely disgusting. I couldn't wrap my head around it. Whatever heart I had left, it snatched it out.
When the Bears drafted me a couple of picks later, I wasn't as happy as I always dreamed I would be; being super-excited and jumping up and down. I told Mr. Angelo I really appreciated it and that I was so ready to get back on the football field. I told him, "That's all I need to do now and once we do that I think I'll change some people's minds."
I was real hell bent on making sure that he didn't make a mistake. I told my wife that and we talked about that as the years went on. I always thought that I don't want people to say that he made a mistake by picking me.
I ended up in a great spot and everything felt good when I got to Chicago. But I always kept track of the defensive ends that were picked ahead of me. When I look back on it, Peppers and Freeney had Hall of Fame careers, so I guess their teams did right by taking them before me. But the other guys? Heck no!