Chicago sports media icon Chet Coppock shares his memories of the 1963 World Chmpion Chicago Bears with you on ChicagoBears.com this season. This is the fourth of 11 installments that will post throughout the year.
October 13, 1963: Bears 52, Rams 14
To really understand George Halas, you have to know that he was far more than just a football coach. Papa Bear was the owner, the founder, a master innovator and a phenomenal promoter. Remembering the '63 Champs
You can build a strong case that the old man kept the league alive when he signed Red Grange out of Illinois back in 1925. In later years, Halas, recognizing the charm of Green Bay, lobbied the city fathers up north to build the Pack a new ballpark to replace old City Stadium, which was basically an oversized high school cow pasture.
And the coach knew how to play the press. For so many years, the Bears used to make an annual west coast junket to play the Rams and 49ers. Halas would draw his share of boo birds when the Bears played San Francisco at Kezar Stadium. But George was truly on his "A" game in Southern California.
Halas would always make it a point to tell an anxious west coast press something, anything that would fan the flames between the Bears and the Rams and attract additional paying customers. The public just ate it up. In fact, the Bears' largest road game crowd remains the 100,400 fans who turned out to see the "Monsters" face Los Angeles in 1958.
[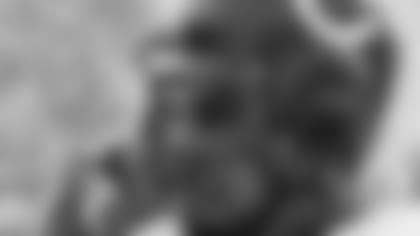 ](/multimedia/photo-gallery/1963-Championship/d565fe0e-ca3d-4656-a8db-c9b306c23772)
Bears LB Bill George prepares to reenter the game against the Rams. Click image for photos from the 1963 season.
On to 1963. The Bears had allowed just 34 points on defense through four games - all victories - while the offense had scored just 10 points in two of those wins over Green Bay and Baltimore.
The Bears were a club looking for a sledgehammer when it went strutting into the Coliseum to meet Harlan "Swede" Savare and the winless Rams. Trust me, if this would have been a boxing match, the referee would have stopped the fight sometime early in the second period. The Bears, up 28-7 at the break, thrashed Los Angeles 52-14.
Mike Ditka had a field day. The game's premier tight end caught four touchdown passes, two each from Bill Wade and Rudy Bukich. Bennie McRae, the superb cornerback out of Michigan, picked off a pass from ex-Bear Zeke Bratkowski and returned it 35 yards for a score. But that's just a warm up. The Bears forced eight turnovers; six interceptions and two fumble recoveries.
At this point, Halas needed a calculator. Through five games, the Bears had recorded an almost unthinkable 16 interceptions. The Halas men also came up with six sacks with at least three of those being recorded by the big 6' 8" Tennessee Volunteer Doug Atkins.
Big Doug, a card carrying member of the Pro Football Hall of Fame, spent the entire four quarters in the faces of the "Brat" and his caddy, Terry Baker. Ed O'Bradovich, a violent pass rusher, will tell you without hesitation that "Big Doug" remains the greatest defensive end in pro football history.
O'B, as you'll learn later in our journey, is and was one of the most colorful and outrageous players in Bears history. He's a guy who candidly admits he hated every quarterback he ever faced.
Meanwhile, several things were becoming apparent. Green Bay, riding the crest of back-to-back NFL Championships, wasn't going to play dead. The Pack had rolled off four consecutive wins since their opening day loss to the Bears. In fact, I recall this vividly, Chicagoans were already pointing to November 17th when the Bears and Packers would rematch at Cubs park. Scalpers, seeing green backs, had begun to drool.
Two - Papa Bear, inadvertently or by choice, had created an on-going quarterback debate. While Wade had turned in a more than respectable performance in L.A., Bukich had once again made his presence felt. Rudy connected on 8 of 9 pass attempts for 99 yards with a pair of TD strikes.
I've thought about this for years. It was no secret in NFL circles that Halas enjoyed so called "creative tension." Was he looking for something more from Wade? Was he trying to keep Bill on edge?
Mind you, Halas, off the recommendation of assistant coach George Allen, had traded for Wade before the '61 season with one thought in mind - Wade could lead the Bears to a title.
Back in Chicago, a Rudy Bukich fan club was developing. A growing group of Bears fans genuinely believed that Rudy should be the team's starting quarterback.
Seven days later in San Francisco, Wade vs. Bukich would become larger than life.