For Bears fans old enough to remember eight-track tapes and full-service gas stations, Thursday's Thanksgiving Day game in Detroit no doubt will conjure up some unforgettable memories.
On the exact date 34 years ago, the Bears recorded one of the most dramatic comeback victories in franchise history, rallying from a 17-3 fourth-quarter deficit to stun the Lions 23-17 in overtime.
On Thanksgiving Day 1980 at the Pontiac Silverdome, Bears quarterback Vince Evans scrambled for a 4-yard touchdown to tie the game as time expired in the fourth quarter and Dave Williams followed by returning the overtime kickoff 95 yards for the game-winning TD.
Scoring 13 points on three consecutive plays—including Bob Thomas' game-tying extra point with :00 showing on the scoreboard—was especially stunning after the Bears had mustered only three points through the first three quarters. But Evans threw a 20-yard touchdown pass to tight end Bob Fisher early in the fourth period before engineering one of the greatest drives in team history.
Trailing 17-10, the Bears took over at their own 6-yard line after a Lions punt with 3:37 to play.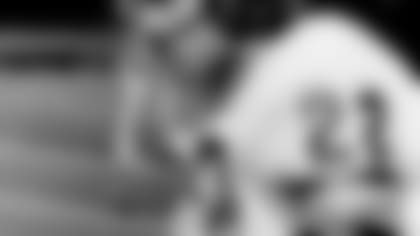 Dave Williams
"What I remember about that was looking at the guys, Walter [Payton] and James Scott, Revie [Sorey] and Noah [Jackson], and just seeing in their eyes that they were ready to go," Evans said this week during a phone interview from his home in California. "I felt like throughout the whole game we were competing well and we just sort of made up our minds that we've got these guys right where we want them, let's do what we do."
Evans completed passes of 15 and 18 yards to Scott, giving the Bears a first down at their own 41 at the two-minute warning. After an 8-yard run by Payton, Evans and Scott connected for pass plays of 14 and 19 yards, resulting in a first down at the Detroit 14 with :27 remaining.
On the next play, Evans ran for 10 yards to the 4, but he came up limping after taking a big hit.
"Even prior to that there were a couple of times that I had gone back to pass and [defensive end] Bubba Baker had just unloaded on me and I was hurting," Evans said. "And then that run where I got hit on my thigh, I was like, 'Oh, God, I don't know if I can finish the game.' But you just suck it up. Thankfully there was a timeout. I got a chance to gimp over to the sideline and get the play."
Having used their third and final timeout with :16 to play, the Bears couldn't risk a handoff to Payton, who rushed for 110 of his 123 yards in the second half.
On first down, Evans threw behind Scott in the end zone and the ball squirted through the hands of cornerback James Hunter. On the next play, Evans had receiver Brian Baschnagel open in the back of the end zone, but the pass caromed off right guard Revie Sorey's helmet and sailed out of play. That left :06 on the clock and the Bears facing third-and-goal from the 4.
Evans dropped back, looked briefly to his left and then took off up the middle, diving into the end zone with no time remaining on the clock to send the game into overtime.
"I just didn't see what I liked and certainly didn't want to throw a pick down there," Evans said. "I looked to my left and then sort of looked back to the right. I just saw that hole and my instincts just kicked in and I just did the next best thing."
Bears defensive backs coach Jon Hoke, who was a reserve safety on the 1980 Bears, remembers watching from the sideline as Evans engineered the 14-play, 94-yard drive. The former USC star completed 4 of 8 passes for 66 yards—all to Scott—and rushed for 14 yards on two carries.
"What a drive," Hoke said. "He just made play after play, whether it was with his feet or with his arm. It was something to watch. Vince was smart and he had such a strong arm. Could he throw the football. He could get it out of his hand quick. It was pretty amazing to watch."
After Evans tied it, the Bears were convinced they were going to win the game—even though they were in last place in the NFC Central with a 4-8 record, three games behind the first-place Lions.
Hall of Fame defensive lineman Dan Hampton was in his second year with the Bears in 1980.
"We were a young vagabond team," Hampton recalled this week. "We'd take wins anywhere, anytime. We didn't have a whole lot of great expectations yet. But when we got into overtime we were like, 'We know the turkey's drying out, we know the dressing is getting cold, but by gosh we want to win,' and I remember being on the sideline saying, 'Hey, let's win.'"
They did just that—after punter Bon Parsons had won the overtime coin toss by calling tails. Williams dropped back to receive the kickoff. The rest of the return team consisted of Fisher, Robin Earl, Ron Rydalch, Otis Wilson, John Skibinski, Bruce Herron, Kurt Becker, Matt Suhey, Lee Kunz and Rickey Watts.
Williams caught the kickoff at the 5-yard line, darted up the middle and bounced outside to the left, racing down the sideline in front of the Lions' stunned bench. After reaching the end zone, he was greeted first by Wilson, followed by wave-after-wave of exuberant teammates.
"As he got to about the 50-yard line, it was pretty obvious that he was going to score, so we were all running out on the field," Hampton said. "It was like the Stanford band thing. We just took off chasing, and I could run back then. I was one of the very first ones to get to him in the end zone."
Hampton would have been better off jogging than sprinting to join the celebration. In the bedlam, Payton jumped on Hampton's back and accidentally ripped off the defensive lineman's helmet, breaking his nose.
"There was 6-8-10 seconds of pandemonium where we were all screaming and then it was like somebody hit me in the face with a baseball bat," Hampton said. "Walter had run up and did his patented jump high and when he came down he came down across the back of my helmet. It wasn't chin-strapped. I had a big cage mask and it came up and hit me perfectly in the snout and, my God, the blood went everywhere.
"I didn't know what happened. Everybody was looking at me like, 'What the hell's up with you?' Well, we get into the locker room and everybody's happy and I didn't want to be a buzzkill, so I just put cotton up my nose and got on the plane."
For Hampton, the mystery was solved the next day when the team watched the tape.
"We saw Walter in slow motion coming down on my back," Hampton said. "I turned my head around and looked at him and he had that great smile that he always did. He put his hands up and everybody started laughing. Hey, it was worth it, trust me. It was just collateral damage."
It's not known how long Hampton kept the cotton in his nose after the stirring win, but later that night after the jubilant Bears had returned to Chicago, he had Hoke over for Thanksgiving dinner.
It was certainly an ideal way to cap off a memorable Thanksgiving for Hoke, a 23-year-old rookie at the time who still smiles 34 years later when he sees a replay of the touchdown return and the wild celebration that followed.
"Just to see the emotion of the players, guys were thrilled and excited," Hoke said. "It was a big win. It was a national TV game. It was a Thanksgiving Day game, so it was a big deal. That was a tremendous ending to a game. It was one of those where you go, 'Wow, this is something special.'"