The following is the fifth of 10 stories featuring Bears coordinators and position coaches.
The coaching bug bit Andy Bischoff at a very young age.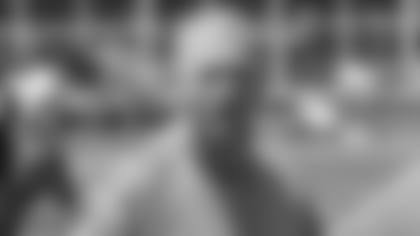 First-year tight ends coach Andy Bischoff says he had the desire to coach at a very early age.
The Bears' first-year tight ends coach was only 14 when he managed nine-year-olds on the Dunning Boosters baseball team in a St. Paul, Minn., summer league.
"It was just a neighborhood team," Bischoff said. "They had a parent who was basically the chaperone piece to it, but he didn't know a lot about baseball and they needed somebody that they thought knew a little bit more about baseball.
"I enjoyed helping others see the game the way I did and helping them improve. I've always enjoyed the teaching aspects of all sports and breaking down the skills of the game. So going back to a very early age I had a desire to be a coach and a teacher."
Bischoff recalls that the baseball team he coached had a good season, but he didn't gauge its success solely based on wins and losses.
"For me the greatest measure of success for a youth sports team is if the kids want to play the next year," Bischoff said. "That was something that someone pointed out to me a couple years after I coached those nine-year-olds, was that they all continued to play.
"I feel if anyone coaching youth athletics uses that as their measuring stick more than wins and losses, they're probably going to have a better sense of if they made a connection to the kids."
After graduating from the University of South Dakota with a Bachelor's degree in education in 1994, Bischoff was contemplating two career paths: He would either take a teaching job and start coaching in high school or enroll in a minor league baseball umpires school.
"I had a real love for football and baseball, and during my college years I got heavily involved in umpiring baseball," Bischoff said. "The summer before I took my first job I actually worked in the Northern League. I worked a 93-game schedule and was a full-time umpire.
"I elected to go down the coaching route probably because it was a little more stable and there was guaranteed income. Both were really things I was passionate about, but I just worked through that and ended up really funneling my vision towards coaching football."
Bischoff spent 14 years on the coaching staff at Cretin-Derham Hall High School in St. Paul. He started as the school's offensive line coach (1993-97) before adding the duties of run game coordinator in 1999. He was co-offensive coordinator from 2000-03 before being named assistant head coach and offensive coordinator for his final four seasons (2004-07).
During that time, the school compiled a 168-22 record, winning the state title in 1999 and playing in four championship games after reaching the state playoffs 13 times. During his years at CDH, he helped develop 18 offensive linemen who eventually made the step up to the NCAA Division I-A level, including Ryan Harris of the Houston Texans.
Bischoff, who was also the Dean of Students for 10 of his 14 years at the school, earned his Master's degree in Education Administration from Mankato State University in 1998 and a post master's license in administration from St. Mary's University (Minn.) in 2006.
Bischoff spent the last five seasons (2008-12) as running backs coach on Bears' first-year coach Marc Trestman's staff with the CFL's Montreal Alouettes. Bischoff was also assistant head coach and served as the Alouettes' special teams coordinator the past three years.
Asked about Trestman's best quality, Bischoff said: "Just the way he runs his organization. He really does put people first. At times when you just focus on winning you put so much energy into that task and you overlook so many other things, and I think a lot of coaches do that.
"We've always put people first and the relationships first and that has allowed us to build the kind of continuity and trust on the team. That environment was and continues to be the reason I want to be associated with Marc."