Last Friday night at the University of Georgia football stadium, former Bears kicker Kevin Butler took a short walk to complete a long journey.
Three-and-a-half decades after originally enrolling in the college in his home state, Butler received his undergraduate degree from the Terry College of Business.
"It put a big smile on my face," Butler told ChicagoBears.com. "I felt a big accomplishment that had just been out there and not thought about for many years."
Butler played four seasons at Georgia, where he was a two-time All-American and scored a school-record 353 points. But he still needed six classes to graduate when he left the college in early 1985 after being selected by the Bears in the fourth round of the NFL Draft.
Butler enjoyed a highly-successful NFL career. He set a league rookie record with 144 points while helping the Bears win the Super Bowl in 1985 and left the team a decade later as the franchise's all-time leading scorer with 1,116 points.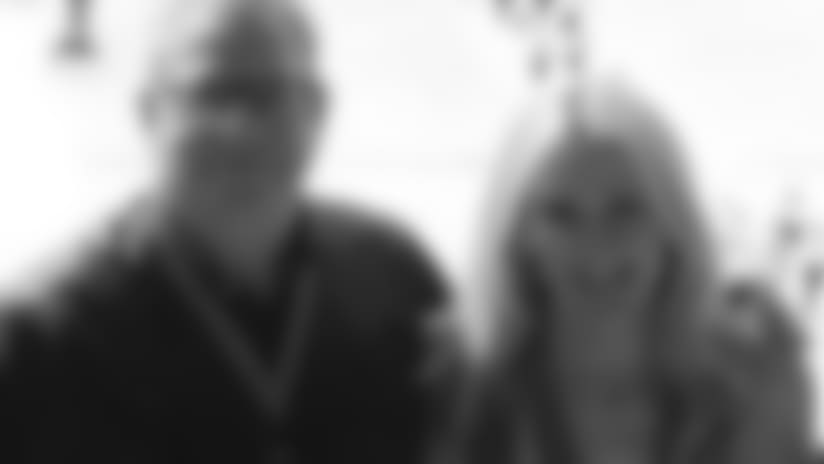 Holding a cap that reads "The Butler Did It," former Bears kicker Kevin Butler poses with his wife, Cathy, at his graduation ceremony last Friday.


Butler retired from the NFL in 1997 following two seasons with the Arizona Cardinals and entered the business world. Over the years, he began to get the itch to return to school to complete his unfinished business.
"When I'd go make business deals and meet with people, I always would see them with their framed diploma somewhere in their office and that's just something that I didn't have," Butler said. "It was a personal void and I just felt like I was close enough to be able to do it."
Butler eventually returned to Georgia in the fall of 2016 and completed his course work. At first, he felt self-conscious sitting in classes alongside students who were even younger than his three children. It reminded him of when he had to repeat second grade and attend summer school for five straight years after being diagnosed with dyslexia as a kid.
"You go in there and you think everybody's looking at you, and I think they were at first wondering what the janitor was doing sitting in the back row or whose father was in the class," Butler said. "People my age are usually in a Master's program. There are a few that go back and get [an undergraduate degree], but certainly I was in a small population there."
Business law was one of the most interesting classes that Butler took in his second stint at Georgia.
"Business law was a good one because I've been sued, I've sued people, I've sued businesses, I've signed contracts for homes," he said. "It was all that and it was very interesting. I had to write a 20-page thesis and was surprised how easy that was. Certainly you have to get it in the rough draft form and grammatically correct and everything. But the tools out there now compared to 30 years ago make college a much more manageable situation time-wise."
That class and others no doubt will benefit Butler in his business ventures. He currently is a consultant for FieldTurf and is co-owner and co-founder of the National Collegiate Sports Archives, which acquires and digitizes archival sports footage from colleges.
While attending classes, Butler coached kickers and punters as an undergraduate assistant on the Georgia football team during the 2016 and 2017 seasons. Last year the Bulldogs won their first SEC championship since 2005 and reached the FBS national title game.
"It was the ultimate," Butler said. "I'd always been on the players side. I've certainly coached kickers, but to have an active role in the game and an active role with the players on a weekly basis, I thought I brought a lot of value to the University of Georgia."