The following is the second of 10 stories featuring Bears coordinators and position coaches.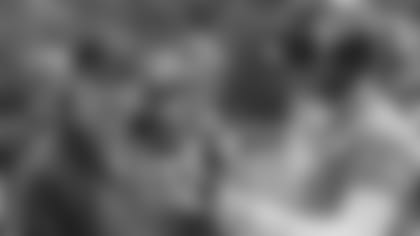 Quarterbacks coach Matt Cavanaugh goes over a play with QB Jay Cutler at Bears minicamp.
Matt Cavanaugh has won three Super Bowl rings, two as a player and one as an assistant coach. But the Bears' first-year quarterbacks coach isn't satisfied.
"If you're in the business, you're in it to win it all,"Cavanaugh said. "That's really got to be your driving force. I'm old enough now that I've learned the game's not about me. It's not about how fast I can advance, how I can do more, how I can get paid more, any of that stuff.
"It's about the moment. It's about the players you've got. It's about helping them realize their fullest potential and hoping that that's good enough to win a Super Bowl."
Cavanaugh's two rings as a player came as a backup quarterback to Joe Montana with the 49ers in 1984 and to Jeff Hostetler with the Giants in 1990. Cavanaugh won his third title in 2000 when he was offensive coordinator of the Ravens.
"I've been fortunate enough to make money over the years as a player and as a coach,"he said. "A lot of that money's been spent. The only real proof I've got that I was part of a Super Bowl-winning team is those rings. There's no better feeling than when that season ends and you know that you're the best team in the league, and those memories last forever."
Cavanaugh hopes to win his fourth ring in his second stint with the Bears. He previously served as the team's offensive coordinator in 1997-98 under Dave Wannstedt. When Cavanaugh joined the Bears the first time, he had only three years of NFL coaching experience.
"I had actually turned down a head coaching-offer from Pitt and decided to go with Dave to Chicago,"Cavanaugh said. "I knew I wasn't ready to be a head coach, and in hindsight I may not have been ready to be a coordinator. But I immersed myself in it and worked my [butt] off.
"We just weren't very good and I'm sure I was part of that not being very good. But as the years go on, you get more experience. And when you're around winning environments, you start to learn more things and hopefully increase your repertoire of teaching and play-calling, and I think I've gotten better."
Cavanaugh first realized that he wanted to become a coach about halfway through his 13-year NFL career. After leading the University of Pittsburgh to a national championship in 1976, he was selected by the Patriots in the second round of the 1978 draft.
But Cavanaugh spent most of his career as a backup. He appeared in 112 games with only 19 starts, completing 305 of 579 passes for 4,332 yards, 28 touchdowns, 30 interceptions and a 71.7 passer rating.
"I took pride in being a good backup and being a smart guy that [my team] could count on if they needed someone to finish out a game or play a couple games,"Cavanaugh said.
"But I had an opportunity to start a couple times when I was younger and I wasn't good enough to stay on the field every Sunday. So I just started paying more attention [to coaches]. I wanted to know what coaches were thinking. I just locked into almost feeling and acting like a coach."
Cavanaugh has 21 years of coaching experience, including 15 seasons in the NFL and 12 as an NFL or collegiate offensive coordinator. He spent the last four years as Jets quarterbacks coach.
Prior to that, Cavanaugh served as offensive coordinator at the University of Pittsburgh. It was his second stint at his alma mater after making his coaching debut in 1993 as Pitt's tight ends coach.