ChicagoBears.com senior writer Larry Mayer speaks with coach Lovie Smith about the most pressing issues involving the Bears every Wednesday during the season.
LM: What's the greatest challenge facing a Vikings team Sunday that you're familiar with and will play for the second time in three weeks?
LS: "The challenges are the same as they were when we got ready to play them last time, starting off with Adrian Peterson. It seems like he's getting better and better as the year goes along. He had a great game against the Packers, and it's going to still start with him. Playing them [for the second time in three weeks], an awful lot hasn't changed. I don't see either team having an advantage because of that."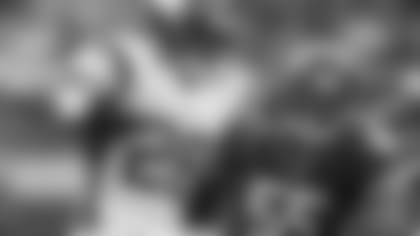 Vikings running back Adrian Peterson leads the NFL in rushing with 1,446 yards and eight touchdowns.
LM: The home team has won 17 of the last 21 games between the Bears and Vikings. How much does the degree of difficulty increase in the Metrodome?
LS: "It's hard playing on the road and it's even harder playing in a dome. But we play them every year up there. That's the good part. We knew the dome games that we were going to have this year. We have gone up there. We have crowd noise each week that we're dealing with. I just don't think it will be that big of a deal."
LM: How pleased were you with how the offensive line performed last Sunday against the Seahawks? With the Bears giving up only one sack, not committing any turnovers and compiling 358 total yards, I thought the line played well.
LS: "Yes, they did. Playing like that their first time together for a full game, you have to be pleased with what they were able to do. Just like the rest of the team, there are things we have to improve upon to have success this last quarter of the season. But yes, I was pleased."
LM: Given that the line hasn't played together long and they'll be going into a hostile environment after two home games, how much will you focus on communication issues in terms of them being on the same page?
LS: "We always focus on that, and I think we're set up for that. The way to combat that sometimes is just to be able to run the football. We get off the bus running the football. It's not like we're going to start just going to that approach. We believe in protecting our quarterback. You say what position has an advantage in the dome? It's their defensive line, and that's why we have to have some max protection and just know where the guys are and protect the quarterback."
LM: Switching to the other side of the ball, what's the focus this week after what happened late in last Sunday's to the Bears defense?
LS: "We group everything that's happened the previous three quarters of the season together. Last week's a part of it. We didn't finish. One area defensively was third downs. Had we just gotten off the field on a third down we wouldn't have gone into overtime. We always concentrate on things we did wrong. There were a lot of them. We didn't take the ball away as many times as we needed to. We didn't tackle as well as we needed to. We didn't do any of the normal things we do well last week."
LM: What are your thoughts on re-signing linebacker Dom DeCicco, who was with the Bears earlier this season before he was waived/injured and ranked second on the team with 17 special teams tackles last year?
LS: "We're lucky to have somebody like Dom available for us, especially this late in the year. He's a good player to start off with, but he also knows the system. He knows what we do special teams-wise and what we do at the linebacker position. He's one of our guys. We didn't want to get rid of him last time; he just had an injury and we had to. It's good to have him back."