Walk into the Clyde Emerich Weight Room at Halas Hall and you see everything a football player could need: Olympic-style exercise machines, row after row of weights and a protein bar for fueling up, with world-class coaches and trainers overseeing it all.
In the corner of the room is an office for the man who runs the show there, Bears strength and conditioning coach Mike Clark. An inductee into the USA Strength and Conditioning Coaches Hall of Fame, Clark has been overseeing the physical condition of football teams for more than 30 years. He joined the Bears staff in 2013, and recently sat down with ChicagoBears.com to discuss what his role encompasses and the challenge of the condensed schedule the team currently is dealing with.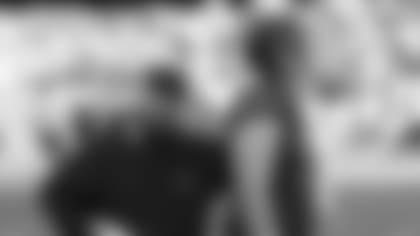 Mike Clark and Kyle Long
When and how did you become a strength and conditioning coach?
I was a graduate-assistant football coach (at the University of Kansas in 1978) and we'd hired a guy to work in the weight room and be a strength coach. I'd done some competitive lifting in college, and our head coach asked me if I'd be interested in going down there to help him. We were cutting up tape, literally cutting it up. And I'd cut my last one – 53 Blood Blue, it was a blitz – put the tape on the wall, where we'd tape them all together, splice them and make one reel of this play. And the coach said, 'Mike, how would like to go down to the weight room? Help our guy down there.' I was studying exercise physiology at the time and I'd started doing some weight lifting as a kid. So it just seemed like a natural.
Was strength coach a prevalent position in football at that time?
No, it wasn't. I certainly was there at grandfather stage of the profession. (Former Bears strength coach Clyde Emrich) is the father of it, and I wasn't at that stage. But not every school had a strength coach at that point. My first college job was in 1981 (at the University of Wyoming) as the head strength coach, and I've been the head strength coach every year ever since.
Since you began in the profession, there have been so many advancements in strength and conditioning. How has your job changed and evolved over the course of your career?
Well, there's been a lot of advancements, and a lot of things we thought were advancements that actually set us back, to be honest. I'm coaching world-class athletes. Football is unique in that there are several different components of performance that are important to it. A lot of sports, there's one major one and a few minor ones. In football, there's a bunch of them, and depending on the position you're playing, which ones are the most prevalent. So it can become a little more complicated that way. So, the things that have made it easier are the computer, the ability to track numbers and do things, but just the acceptance of it is what I've seen. Now a days, it's all about performance, speed, power, change of direction. That actually is one of my stronger suits, getting out to do some of those things. So that aspect of it has been a lot of fun.
What is the difference in training players in the offseason and during camp, compared to now during the season when there's a game every week?
It depends on who it is, and whether they are trying to gain strength or not. And it depends on their past work habits, their work ethic, their age, how much they're playing. You have guys who are on the active roster who aren't playing much, and I tend to train those guys – if I know going into the week they aren't really going to play on Sunday – it's like an offseason week for them; we get after it pretty hard. Not exactly the same, because they have to practice. But there'll be a couple days a week where we are getting after it. Developing brute strength, power or capacity, whatever component the player needs focus on, we can do that at that point. And now with the new CBA, the offseason is so short, a lot of these younger guys haven't been through much training; their training age is very limited. Our offseason is nine week, but the truth of the matter is, for lifting and general conditioning, it's five weeks. So we have five weeks to prepare them for a season that's over 20 weeks long, that's one of the real challenges today in the NFL.
There also must be challenges in preparing the players for short weeks, such as the Thanksgiving game on Thursday, four days after we played against Tampa Bay?
That's too short-sided, it really is. We are actually going to play three games in 12 days. And most of the time when you play a Thursday game, the minute that it's over, you get at least a 10-day window to try and recover for your next game. Well this year for us, we don't get that; we turn around and play another game in seven days. So it's the accumulation effect of what's going to happen. So knowing this at the start of the season, we created a training calendar that shows me what we need to do. The real challenge is not how to get ready for Detroit, but how to get ready for Dallas and then how to recover after Detroit and Dallas to get ready to play whoever's next (New Orleans on Dec. 15). And the way to do that is monitor reps, monitor sleep, try to ask the right questions of the players.
You've detailed some of what you do during the week, but how about on game day?
Before everyone gets there, I set up the pregame warmups schedule. So when the running backs go out, when the quarterbacks will throw, I do that timing. But we do a lot of dynamic warmup, different muscle activation stuff with players before the game. And then when the game starts, we are just watching them, seeing if there's anything we can do. A player with a little injury here or there, seeing if they need something activated or stretched, we'll do that. Make sure they are hydrating, because sometimes they forget to do that. And fueling as well; we try to force food down at times during the game so they have enough energy to continue to compete without hurting themselves.